This Sunday we celebrate the mother's in the world, and with that, I'm writing my first blog post.  My mom was the nicest person I ever met and she was my mom.  She was always there to support me in everything I did or wanted to do.  I don't know if she would have ever kayaked, but she would have enjoyed watching others do so.  My mom passed away years ago from Multiple Myeloma.  She was still nice and still my mom till the day she died.  She would do anything possible to help people and I live every day trying to live up to her high standards of living, even though she would never want me to feel like I needed to live up to her…I want to.
Her birthday was August 8th.  Last year, in memory of her, I gave everything we made on that day to the Multiple Myeloma Research Foundation (MMRF.org).  This year and every year I own my business, I will be donating all the money we make on that day (employees donated their time last year) to something she would believe in.  I'm going to donate to MMRF again this year, and am thinking of donating to PETFINDER.com next year.  To anyone that knew her, knew she loved our pets, and they made her smile even more than she did already.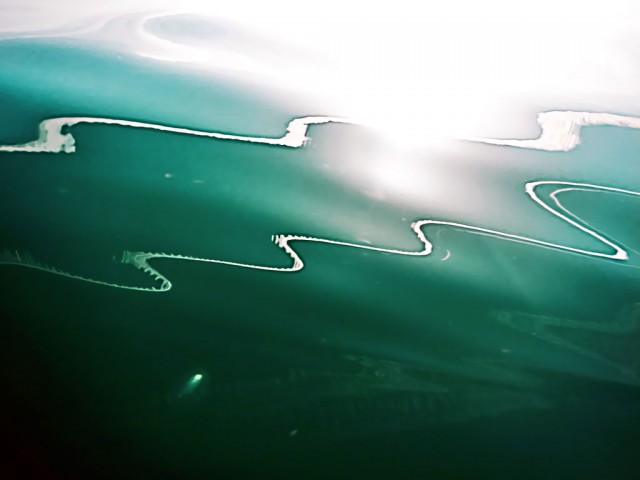 We will be running our normal 10am San Simeon Cove tour and if demand is there, will run a 7am tour as well.  Reservations are needed for the tours.  We will also be renting everything as well if you want to go out on your own.  As the date approaches, I will know better if we will have someone working the beach the whole day or not (depends on tour sign-ups).  More info and updates to our website the next couple of weeks.  Enjoy this upcoming weekend and celebrate your mom and the day itself.
The picture was taken on May 1st 2014.  This is a reflection of the sun and 2 plane trails on the water. We have beautiful water quite often, but this glassiness was heavenly.