As an avid outdoor enthusiast, I'm always on the lookout for new adventures, and kayaking is one of my absolute favorites. The thrill of gliding through the water, exploring coves and rivers, and being surrounded by nature's beauty is an experience like no other. Recently, I set my sights on the Hocking Hills region, an area famous for its lush forests, cascading waterfalls, and diverse wildlife. This stunning destination immediately piqued my interest, and as a proud kayak owner, I started to wonder—can I bring my own kayak to Hocking Hills?
Join me as I dive into this question, exploring the regulations and requirements for kayaking in the Hocking Hills area. We'll discuss rental options, outfitters, and safety precautions to ensure you have the best possible experience. Whether you're a seasoned paddler or new to the sport, it's time to discover how you can make the most of your Hocking Hills kayaking adventure!
Discover Hocking Hills And Its Allure For Kayakers
There's nothing quite like the exhilarating experience of kayaking through the serene waters of Hocking Hills. Nestled in southeastern Ohio, this region offers a perfect blend of stunning natural beauty, thrilling outdoor activities, and a peaceful environment that calls to the adventurer in all of us.
As a kayaker, what truly sets Hocking Hills apart is the Hocking River. This winding river flows through a picturesque landscape, providing an incredible backdrop for kayaking excursions. With numerous launch points and various routes to explore, the river satisfies beginners and seasoned paddlers alike.
Some of the most popular spots for kayaking in Hocking Hills include:
Lake Logan State Park: A magnificent 400-acre lake surrounded by lush forest, perfect for a leisurely paddle.
Rockbridge Nature Preserve: Home to Ohio's largest natural bridge, Rockbridge offers a unique kayaking location and an excellent starting point for hiking trails.
While kayaking alone is enough to entice many visitors, Hocking Hills also offers a plethora of other activities. Hikers, birdwatchers, and nature enthusiasts will find countless trails and sightseeing opportunities to complement their time on the water. So now, the question remains: Can you bring your own kayak to Hocking Hills?
Can You Bring Your Own Kayak To Hocking Hills? Allowed Or Restricted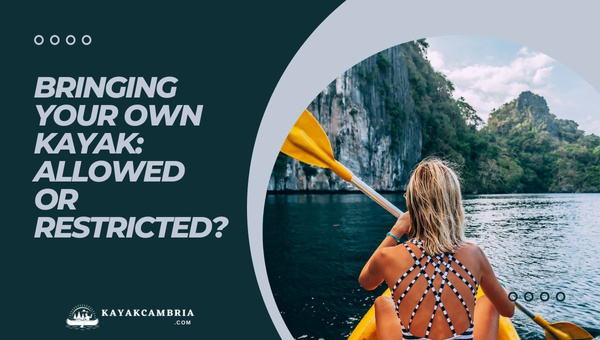 So, let's address the question that brought you here: Can you bring your own kayak to Hocking Hills? The simple answer is yes, you are allowed to bring your own kayak! However, there are certain rules and restrictions that every visitor must follow to ensure a safe and enjoyable experience.
First and foremost, it's crucial to have a valid Ohio Boating License if you plan to operate any watercraft, including a kayak, on the waterways in the Hocking Hills region. You can obtain this license easily online through the Ohio Department of Natural Resources website.
Additionally, always follow the guidelines set by the park or the specific area where you plan to kayak. This may include restrictions on specific waterways, access points, or designated launch areas. Before starting your adventure, make sure to check with local authorities or park offices to know any updated guidelines.
Keep in mind that many of the water trails in Hocking Hills are managed by different organizations. For example, the Hocking River is under the jurisdiction of the Hocking River Commission, and they work to maintain and protect the river's natural beauty. Ensure you are respectful of any rules they have in place, as they are there for a reason—primarily for your safety and the ecosystem's protection.
Suppose you are kayaking in a restricted area or fail to follow the rules and guidelines. In that case, you may face fines, penalties, or be asked to leave the area. Remember, responsible kayaking helps build a sustainable and thriving outdoor community in Hocking Hills, allowing both locals and visitors to enjoy the beautiful waterways for years to come.
Local Kayak Rentals And Outfitters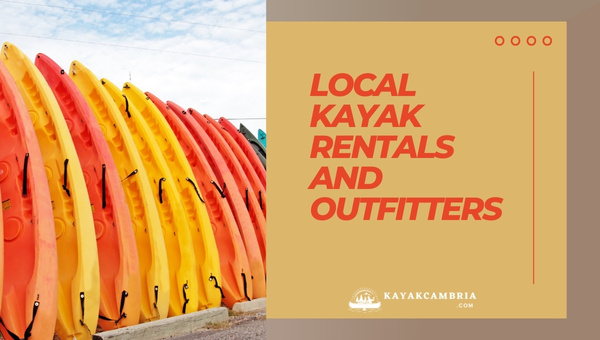 If you find out that bringing your own kayak to Hocking Hills is not an option, or if you prefer to travel light, worry not because there are plenty of local rental companies and outfitters that can help you enjoy your paddling adventure. These businesses provide various types of kayaks, gear, and even guided tours. Here are a few top options to consider:
Hocking Hills Canoe Livery
This reputable outfitter offers kayak rentals, as well as canoes and rafts. They have different trip options suitable for all kayaking levels. I found that their staff provides helpful advice for navigating the river. For more experienced kayakers, Hocking Hills Canoe Livery even offers a longer trip that explores the entire length of the Hocking River.
Hocking Hills Adventures
Located close to Hocking Hills State Park, Hocking Hills Adventures provides kayak, canoe, and raft rentals with various trip options depending on your skill level and goals for the day. They also offer guided tours to ensure maximum enjoyment and safety. Their website offers more information on prices and reservations here.
Fox's Canoe And Kayak Rental
If you're looking for a more personalized experience, Fox's Canoe and Kayak Rentals might be the perfect choice. This family-owned business prides itself on offering top-quality equipment and friendly service. They offer both canoes and kayaks for rent and will happily share their local knowledge, which proved extremely helpful during my visit.
When renting from a local outfitter, it's essential to reserve your equipment in advance, particularly during peak season. Not only will doing so secure your rental, but it can also save you time during your trip to Hocking Hills.
2023's Tips For Kayaking In Hocking Hills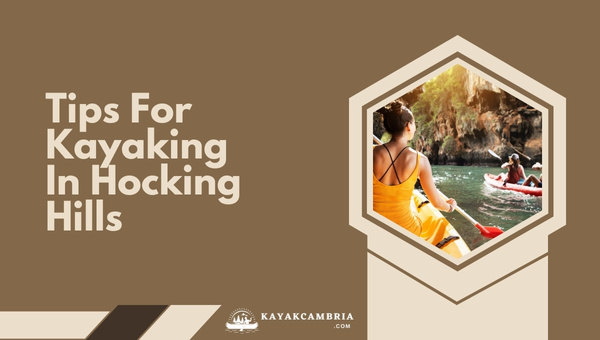 As an avid kayaker, visiting the Hocking Hills region has been a consistently thrilling and enriching experience for me. Whether you're new to kayaking or a seasoned expert, there are a few tips that can help make your Hocking Hills kayaking trip the best it can be.
Best Time To Visit
In my experience, spring and fall are the best seasons to enjoy kayaking in Hocking Hills. During these times, the weather is generally mild, and the area's natural beauty is at its peak. In spring, you'll witness new growth and flowering trees, while in fall, the foliage displays stunning colors. Late summer can also be a great time as the weather is warm and the water levels are usually adequate.
Water Levels And Weather Conditions
Before embarking on your kayaking adventure, make sure to check the water levels and weather conditions. Keep an eye on local forecasts and consult the National Weather Service's Advanced Hydrologic Prediction Service for updates. Sudden changes in weather may affect the water levels and currents, so it's always better to be prepared and plan accordingly.
Safety Tips
To ensure you have a safe and enjoyable kayaking experience, here are some mandatory safety tips to follow:
Wear a well-fitted life jacket: No matter how strong a swimmer you may be, wearing a life jacket is non-negotiable when kayaking.
Stay within your skill range: Tackle rapids and challenges that are appropriate for your level of experience. Overestimating your abilities may lead to accidents or difficult situations.
Paddle with a friend or group: In case of any emergency or unforeseen circumstances, it's always safer and more enjoyable to be kayaking with others.
Understand local boating rules and adhere to them: Before your trip, take a look at specific rules for Hocking River and the surrounding areas to avoid unpleasant surprises during the adventure.
Challenges To Anticipate
Kayaking in Hocking Hills can be a smooth and serene experience, but it's always good to be prepared for potential challenges.
Navigating obstructions: You may encounter downed trees, rocks, or debris in the river, so always be alert and ready to navigate or port around these obstacles.
Lower water sections: Occasionally, certain sections of the river can be shallow, particularly during the dryer months. Be prepared to carry your kayak in these spots, and watch out for exposed rocks or logs that could hinder your progress.
By keeping these essential tips in mind, you will undoubtedly have an unforgettable kayaking adventure in the beautiful Hocking Hills region.
Making The Most Of Your Hocking Hills Kayaking Adventure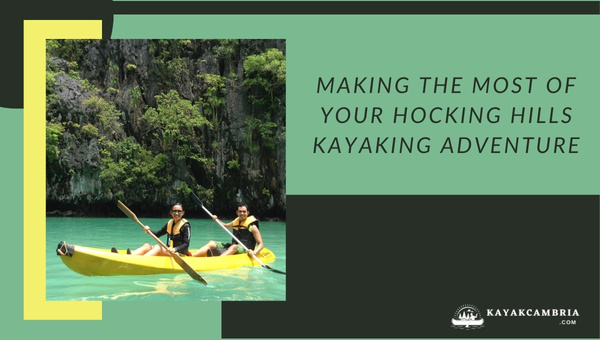 Engage In Exciting Outdoor Activities
Kayaking isn't the only way to experience Hocking Hills. This region is home to an array of outdoor activities that cater to all interests and fitness levels. During your visit, consider exploring some of these popular pursuits:
Hiking: Hocking Hills is known for its magnificent views and unique rock formations. Don't miss out on the stunning natural features offered by hiking trails in the area, such as Old Man's Cave, Ash Cave, and Cedar Falls.
Birdwatching: This region is a haven for bird enthusiasts. Keep your eyes peeled for different species as you paddle along the river or hike through the lush forests.
Ziplining: For those seeking an adrenaline rush, ziplining is an exciting activity available in Hocking Hills. Soar through the treetops and get a bird's-eye view of the gorgeous terrain below.
Embrace An Attitude Of Conservation
The splendor and serenity of Hocking Hills are undoubtedly some of its most compelling features. As such, it's essential to respect nature and the environment during your visit. Keep these guidelines in mind to minimize your impact:
Leave no trace: Carry all trash with you, sticking to designated trails and campsites. Help preserve the natural beauty of the area for future visitors by minimizing your ecological footprint.
Respect wildlife: Observe animals from a distance, refraining from feeding or disturbing them. Remember, this is their home, and our presence should leave as little impact as possible.
Camp responsibly: If you're planning to camp during your trip, be sure to select established campgrounds and adhere to any rules and restrictions they impose. Keep noise levels down and be respectful of fellow campers.
Amplify Your Experience By Connecting With Others
One of the most powerful ways to create lasting memories is to share experiences with fellow adventure-seekers. By connecting with others, you'll not only learn valuable insights but also make new friends who share your passion for kayaking and the great outdoors.
Consider joining kayaking clubs or Facebook groups centered around Hocking Hills' adventures, and don't hesitate to ask for advice, share stories, or simply chat about your love for kayaking. Remember, these connections will enrich your experience and might even lead to invitations for future kayaking trips in Hocking Hills and beyond.
Making the most of your Hocking Hills kayaking adventure involves engaging in other outdoor activities, maintaining an attitude of conservation, and connecting with like-minded individuals. By approaching your trip with this outlook, you'll be sure to create lasting memories and a profound appreciation for this breathtaking region.
Permit Requirements For Kayaking At Hocking Hills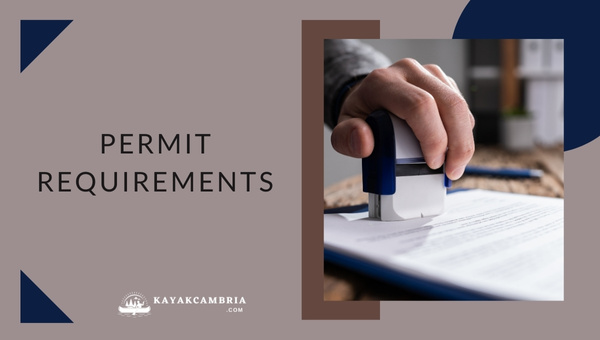 One essential aspect to consider before embarking on your kayaking adventure in Hocking Hills is the permit requirements. There may be specific permits needed depending on where you plan to launch your kayak and how long you plan to be on the water. Let me provide a brief guide to the permit process in the area.
1. State Park Permits
In some instances, you may be required to obtain a permit when launching from certain state parks or state-owned properties. It's always a good idea to research ahead and contact the relevant authorities to ensure you have the appropriate permits in place.
2. Private Property Permissions
If you plan to launch your kayak from private property, always make sure you have the express permission of the landowner. Trespassing on private property without consent could result in fines and potential legal issues.
3. Special Events And Group Kayaking
If you're planning a kayaking trip with a larger group or as part of an organized event, there may be additional permits required. Be sure to consult the appropriate governing bodies for any specific regulations that may apply.
Always research and obtain any relevant permits ahead of your visit to ensure a safe and enjoyable kayaking experience in Hocking Hills.
Safety Requirements While Kayaking at Hocking Hills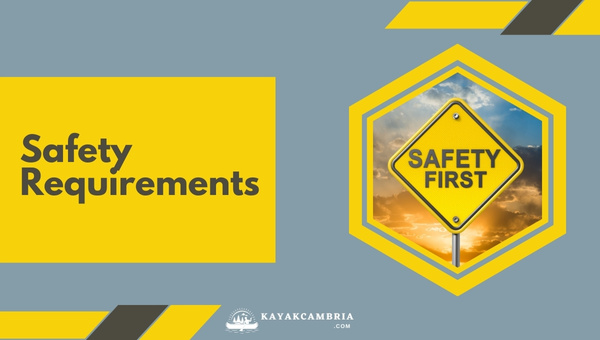 Safety should always be a top priority when it comes to outdoor pursuits. When planning your Hocking Hills kayaking adventure, considering these essential safety requirements will help ensure you have an enjoyable and secure experience on the water.
1. Wearing A PFD (Personal Flotation Device)
A life jacket, or PFD, is a must for any kayaking adventure. Regardless of your experience level, accidents can happen, and a PFD can be a lifesaver. Choose one designed specifically for kayaking to ensure maximum comfort and mobility when paddling.
2. Dress Appropriately For The Weather And Water Temperature
When kayaking in Hocking Hills, you'll want to be mindful of the local weather conditions and water temperature. Check the forecast before setting off, and dress in layers to adapt to changing conditions. It's always wise to have a set of waterproof clothing just in case.
3. Carry A Safety Kit
Always bring a safety kit when kayaking. Typically, it should contain essential items such as a first aid kit, a whistle, a headlamp, a bilge pump, a paddle float, and a map of the area. Tailor your kit to your specific needs, but remember that it's better to be overprepared than underprepared.
4. Brush Up On Paddling Skills And Self-Rescue Techniques
It's crucial to be confident in your paddling and self-rescue skills before venturing into the Hocking River. Consider taking a kayaking course to learn the basics or refresh your abilities. In case of an emergency, knowing how to quickly adapt and respond may come in handy.
5. Be Aware Of River Conditions And Hazards
Before launching your kayak, it's essential to research the current river conditions and potential hazards in the area. Find local resources to stay informed on the water levels, flow rates, and any obstructions you might encounter. Keep an eye out for debris, fallen trees, and rocks in the water, and avoid paddling too close to the shore where wildlife may be present. Remember to always paddle within your skill level and comfort zone.
By adhering to these safety requirements, you'll be well-prepared to enjoy a fantastic kayaking journey in Hocking Hills.
Gear Requirements While Kayaking At Hocking Hills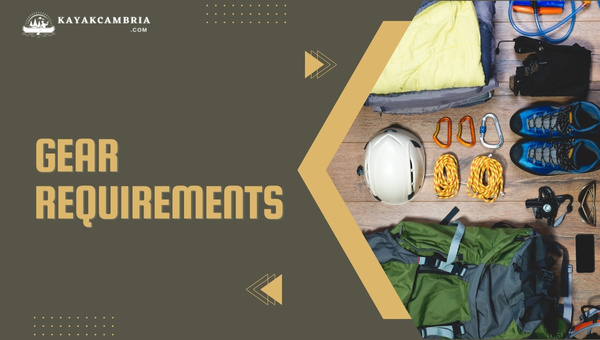 When planning a kayaking trip to Hocking Hills, it's essential to ensure that you have the right gear with you. Having the necessary equipment will not only make your adventure more enjoyable but also keep you safe on the water. Below is a list of essential gear that you must consider before embarking on your kayaking trip in Hocking Hills:
1. Personal Flotation Device (PFD)
A PFD is a non-negotiable item when it comes to kayaking. Ensure that you have a US Coast Guard-approved life jacket for each person on your kayak. It should be comfortable, fit well, and not restrict your movements while paddling.
2. Paddle
Selecting the right paddle for your kayak is crucial. The paddle's length and type should match your height, your kayak's width, and your preferred paddling style. Additionally, having a spare paddle on hand is always a smart choice.
3. Dry Bag
Wet gear can put a damper on your kayaking experience. Keep your essentials such as electronics, extra clothing, and snacks dry by packing them in a dry bag before storing them in your kayak.
4. Bilge Pump Or Sponge
In case of water entering your kayak, you'll need a way to remove it quickly and efficiently. A bilge pump or sponge is an essential tool to have for this purpose.
5. Whistle Or Signal Device
Emergencies can happen on the water, and it is always good to have a whistle or another signal device on hand. These devices can help get someone's attention or alert them of your presence if needed.
6. First Aid Kit
It is vital to have a basic first aid kit with you, complete with band-aids, antiseptic wipes, insect repellent, pain relief medication, and any personal medications you might need.
7. Sun Protection
Sunscreen, sunglasses, and a hat are all essential for protecting yourself from harmful UV rays. Don't forget to reapply sunscreen periodically during your trip, especially if you're sweating or coming into contact with water.
8. Proper Clothing And Footwear
Plan your clothing based on the season and expected weather conditions during your Hocking Hills kayaking adventure. Quick-drying materials, such as synthetic or moisture-wicking fabrics, are typically recommended. Additionally, wear non-slip water shoes or sandals for better stability on slippery surfaces.
By being well-prepared with the right gear, you can maximize your enjoyment and safety while exploring the beautiful waters of Hocking Hills by kayak.
Places To Launch Your Kayak In Hocking Hills
Hocking Hills boasts an impressive number of kayaking launches spread throughout its beautiful landscape. The Hocking River provides many opportunities to explore the region with your kayak, whether you're a seasoned paddler or just starting your kayaking journey. Let's look at some of the most popular and convenient kayak launch spots in Hocking Hills.
1. Hocking Hills Adventure Park & Family Fun Center
This fun center is a fantastic starting point for your Hocking Hills kayaking adventure. With easy access to the Hocking River, beginners, and seasoned paddlers alike can embark on a leisurely trip surrounded by breathtaking scenery. Check their website for more information on launches, rentals, and river trips. Remember that this launching facility is available only if you've rented your kayak from the Hocking Hills Canoe Livery.
2. Logan Riverside Park
Logan Riverside Park, located in downtown Logan, offers a serene atmosphere in which to begin your kayaking excursion. With ample parking nearby and easy river access, this location attracts paddlers of all skill levels. Plus, with picnic areas and playgrounds, it's a great spot for the entire family to enjoy a day outdoors.
3. Clear Creek Metro Park
A favorite among locals and visitors alike, Clear Creek Metro Park is a wonderful place to launch your kayak and explore the Hocking River. Boasting a beautiful setting and an array of wildlife, this park is an ideal spot for nature lovers and photographers. Please note that a valid Metro Parks permit is required to use the launch facilities at this park. Obtain your permit here.
4. Wayne National Forest – Tom Jenkins Dam
If you're looking for a more rugged paddling experience, consider launching your kayak at Tom Jenkins Dam in Wayne National Forest. This location offers a more challenging paddle, with stronger currents and numerous bends in the river to navigate. You'll be rewarded with stunning rock formations and lush forests as you work your way downstream. Visit the Wayne National Forest official website for more information.
Remember to always exercise caution while launching and paddling in the Hocking Hills region. Water levels can vary, and certain launch spots may be unsuitable during periods of high water. By being prepared and informed, you can make sure that your kayaking adventure in Hocking Hills is both enjoyable and safe.
Wildlife In Hocking Hills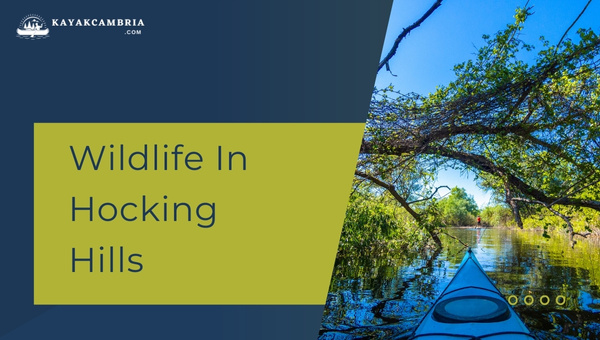 Hocking Hills is a haven for diverse and fascinating wildlife, making it a prime destination for nature enthusiasts and hiking enthusiasts alike. From the delicate flutter of a butterfly to the majestic flight of a bald eagle, the region has something for everyone. Taking a moment to appreciate the natural beauty and creatures found in this area will undoubtedly enrich your kayaking experience. Here are some notable creatures you might encounter during your kayaking adventure:
1. Birds
The region is home to numerous bird species, perfect for birdwatching as you glide along the water. Among the most popular are the bald eagles, which have made a remarkable comeback in the area. The region also plays host to the pileated woodpecker and several species of owls and hawks. Keep your eyes peeled for the distinctive shape of the great blue heron as they hunt for their next meal.
2. Mammals
While paddling through the serene waters of Hocking Hills, don't be surprised if you catch a glimpse of mammals on the shore or skipping among the trees. White-tailed deer, raccoons, opossums, and Eastern chipmunks are just a few examples of the diverse mammal population in the region. For those who prefer nocturnal adventures, Hocking Hills is also home to bats, which can often be seen flying above the surface of the water during their nightly hunt.
3. Reptiles And Amphibians
Hocking Hills is equally rich in reptiles and amphibians. Keep an eye out for the elusive salamanders that inhabit the area, such as the red-backed and spotted salamanders. Furthermore, the area is home to a variety of turtles, including the striking painted turtle and the endangered Eastern box turtle. Lastly, near the water's edge, you might even encounter a variety of frogs, toads, and tadpoles.
Just remember, as you're making your way through Hocking Hills, please be respectful to the wildlife that shares this beautiful landscape with us. Observe from a distance, never touch or disturb the animals during your trip, and maintain a pristine environment for future generations to enjoy.
Best Time To Go For Kayaking In Hocking Hills (2023)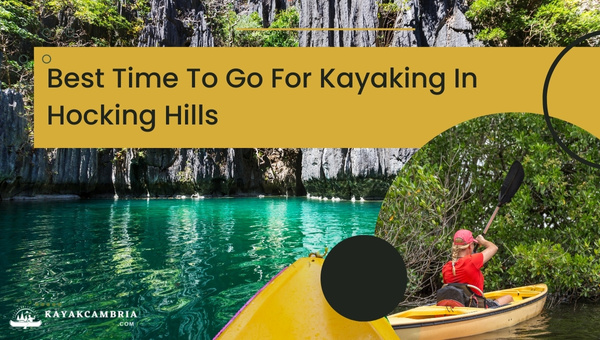 As an outdoor enthusiast, finding the right time to enjoy a kayaking trip can make all the difference in your experience, especially in Hocking Hills. After doing some research and speaking to fellow adventurers, I can confidently share some guidance on when to plan your perfect kayaking trip in this beautiful region.
Spring: A Time Of Rebirth
The ideal time to witness vibrant wildflowers and observe blooming plants.
Temperatures begin to rise, with a moderate to cool climate ideal for active outdoor pursuits.
Water flow can be stronger, making for a more exciting kayaking challenge.
Note: Be cautious of rapid snowmelt, as this can lead to sudden increases in water levels and currents.
Summer: Sunshine And Serenity
The most popular season for tourists due to warm and pleasant weather.
Longer daylight hours mean more time to explore and enjoy Hocking Hills.
Make reservations (rentals, lodging, etc.) well in advance to secure spots during this peak season.
Remember to pack sun protection (sunglasses, sunscreen, hat) and stay hydrated.
Autumn: Nature's Grand Finale
Experience the breathtaking beauty of fall foliage in Hocking Hills.
Crisp and cool air, perfect for daytime paddling adventures.
Quieter season with fewer tourists, which can make for a more serene kayaking excursion.
Another perfect time for wildlife observation, as animals prepare for the winter season.
Winter: A Wonderland For The Intrepid
Hocking Hills transforms into a snow-covered landscape complete with frozen waterfalls.
Some kayaking routes may be off-limits due to ice formations, so be sure to do your research before venturing out.
Bundle up and brave the cold only if you are an experienced kayaker and familiar with winter safety measures.
Consider alternative winter outdoor activities such as hiking, snowshoeing, or cross-country skiing.
The best time to go kayaking in Hocking Hills vastly depends on your personal preferences and preparedness for seasonal weather conditions. Regardless of when you choose to explore this captivating region, you'll be rewarded with a memorable adventure that's sure to leave a lasting impression.
Nearby Places For Camping, Lodging, And Food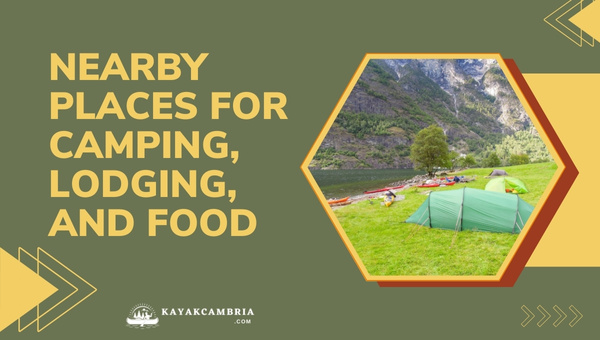 When planning your kayaking adventure at Hocking Hills, you'll want to research on nearby accommodations and dining options. Fortunately, there are many great choices available for different preferences and budgets.
Camping
Enjoy being close to nature by staying at one of the many campgrounds in the Hocking Hills area. Some popular options include:
Hocking Hills State Park – Offering both electric and non-electric sites, this campground provides excellent amenities, such as shower houses and a camp store.
Hocking Hills Adventure Campground – A great location for those planning a kayaking trip, with river access and kayak rentals available.
Lake Logan State Park – Known for its picturesque lake, this campground has a mix of primitive and electric sites available for tents and RVs.
Lodging
If camping is not your style, Hocking Hills has plenty of cozy cabins, comfortable bed and breakfasts, and other lodging options to choose from. Some suggestions include:
Hocking Hills Serenity Cabins – offering a range of cabins to suit different needs, from romantic getaways to family gatherings.
Inn at Cedar Falls – a tranquil bed and breakfast providing charming rooms, private cabins, and cottages. Book your stay here.
Holiday Inn Express Logan – for those who prefer a recognizable hotel chain, this option offers standard amenities and comfort. Reserve a room on their website.
Food
After a day of kayaking and exploring Hocking Hills, you'll want to treat your taste buds to some delicious local cuisine. Some top choices include:
M&M Family Diner – a classic diner offering comfort food like burgers, sandwiches, and breakfast all day. Check their Facebook page for menus and hours.
The Ridge Inn Restaurant – serving up home-cooked favorites with locally sourced ingredients. Find more information and their menu here.
Millstone BBQ – a must-visit spot for barbecue lovers, with favorites like pulled pork and brisket. Don't miss out on their homemade sauces!
With a wide variety of options for accommodations and dining, you can focus on planning a memorable kayaking adventure in the Hocking Hills area.
Frequently Asked Questions
1. What are the most popular spots for kayaking in Hocking Hills?
Some popular spots for kayaking in Hocking Hills include:
1. Hocking River
2. Lake Logan
3. Rose Lake
4. Clear Creek
2. Are there any permit requirements for kayaking in Hocking Hills?
There are no permit requirements for kayaking on public waterways like the Hocking River or Lake Logan. However, always check for any recent changes in regulations on the official Hocking Hills State Park website.
3. Are there any gear requirements for kayaking in Hocking Hills?
The essential gear requirements for kayaking in Hocking Hills include:
1. A safe and functional kayak
2. Personal flotation device (PFD)
3. Paddle
4. Whistle
5. Headlamp or flashlight, if paddling during low-light conditions
4. How can I safely transport my kayak to Hocking Hills?
To transport your kayak safely to Hocking Hills, consider the following steps:
–Select appropriate transportation: Choose suitable roof racks or a kayak trailer based on your vehicle type.
-Prepare your kayak: Secure any loose items and wrap the kayak in a weatherproof cover, if needed.
-Secure the kayak: Properly fasten the kayak to your transportation system, using straps and bow and stern lines.
5. What wildlife can I expect to see while kayaking in Hocking Hills?
Common wildlife sightings during kayaking adventures in Hocking Hills include Bald eagles, Great blue herons, White-tailed deer, Beavers, Otters, Turtles, and more
6. What are the best times to go kayaking in Hocking Hills?
Spring through fall are the best seasons for kayaking in Hocking Hills. However, some enthusiasts enjoy the tranquility of off-season paddling during winter as well.
7. Are there any nearby places for camping, lodging, or food during my kayaking trip?
Hocking Hills offers various accommodations and dining options, including:
1. State park campgrounds
2. Private campgrounds
3. Cabins and lodges
4. Inns and bed & breakfasts
5. Restaurants and cafes
8. Are guided tours or kayaking lessons available in Hocking Hills?
Yes, many local outfitters and rental companies offer guided tours and kayaking lessons for all skill levels. Beginners, as well as experienced paddlers, can benefit from these services to enhance their Hocking Hills kayaking experience.
Conclusion
The Hocking Hills region offers an amazing kayaking experience filled with natural beauty, serene waters, and abundant wildlife. After careful research and inquiry, it seems that yes, you can bring your own kayak to Hocking Hills to embark on a self-guided adventure. However, be sure to check the latest local regulations to abide by any restrictions in place, as these may change over time.
As a responsible visitor, it's important to stay updated on safety requirements, obtain necessary permits, and prepare your gear accordingly. Sharing information about these aspects with fellow kayakers who are interested in exploring the area is highly encouraged.
While kayaking is one of the primary attractions in Hocking Hills, the region offers so much more. Diversify your experience by including hikes, wildlife watching, or visiting nearby attractions, and create unforgettable memories.
Whether you're launching your personal kayak or renting from trusted outfitters, always be conscious of your impact on the natural environment around you—leaving Hocking Hills pristine and beautiful for future generations to explore and cherish.