There's something undeniably exciting about bringing home a brand new kayak and gearing up for all the incredible paddling adventures that await you in North Carolina's diverse waterways. With its scenic coastline, majestic rivers, and beautiful lakes, the Tar Heel State has so much to offer both novice and experienced kayakers alike. However, before hitting the water, it's essential to understand the local requirements and regulations that govern kayaking in North Carolina, including the registration process.
Registering your kayak not only ensures that you're complying with the law and contributing towards preserving the state's water resources but also helps protect your investment if your kayak is ever lost or stolen.
In this blog post, I will walk you through the process of registering a kayak in North Carolina, as well as cover additional permits and safety regulations you should be aware of. By taking these necessary steps, you can enjoy your paddling adventures with confidence, knowing you're doing everything by the book. So, without further ado, let's dive right into the world of kayak registration in North Carolina!
What Is Kayak Registration?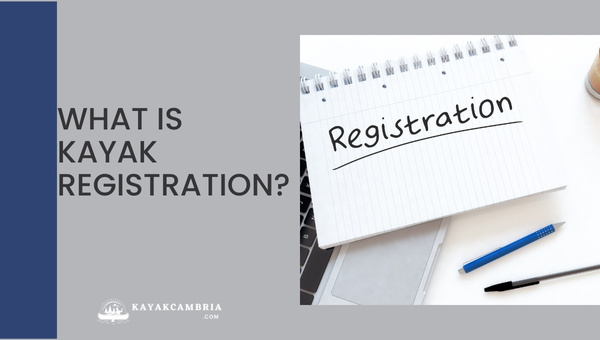 Kayak registration involves obtaining a unique identification number for your personal kayak from the state authorities. This process is essential for several reasons:
It helps officials keep track of all watercraft within the state, which can aid in identifying an abandoned or stolen kayak.
Registering your kayak ensures that you, as the owner, adhere to the local rules and regulations pertaining to water sports and safety requirements.
A registered kayak signifies that the owner is informed about the necessity of safety gear and has a basic understanding of safe kayaking practices.
Lastly, in some states, the fees collected during registration help fund conservation and recreational programs related to waterways, thereby contributing to the overall health and well-being of the environment.
By registering your kayak, you can enjoy the peace of mind that comes with being a responsible kayaker, knowing you are supportive of the norms and initiatives in place for everyone's safety and enjoyment.
When Is Kayak Registration Necessary In North Carolina?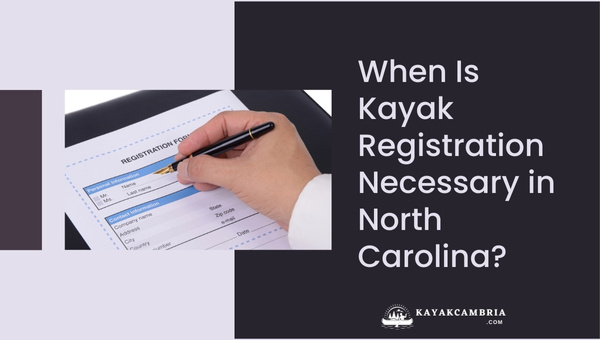 The state of North Carolina has specific guidelines regarding the registration of vessels. These guidelines help ensure the safety and environmental sustainability of North Carolina's waterways. Registering your kayak is not only a legal requirement, but it also promotes responsible paddling practices.
In North Carolina, all motorized vessels, regardless of length, are required to be registered. Non-motorized vessels, such as kayaks or canoes, do not require registration if they are solely human-powered.
However, if you decide to attach a motor to your kayak, you must register it with the North Carolina Wildlife Resources Commission (NCWRC). Similarly, if your kayak is commercially used or used as a rental vessel, it must be registered irrespective of whether it has a motor or not.
Key Exemptions And Special Cases
Keep in mind that certain types of kayaks and situations may be exempt from registration requirements in North Carolina:
Non-motorized kayaks are exempt if they are solely powered by oars or paddles and are not used for commercial or rental purposes.
Non-titled vessels can obtain a temporary Certificate of Number (registration) for a fee, which allows them to operate for a maximum of 60 days. After that time, they must be registered following normal procedures.
Out-of-state kayaks are allowed to operate temporarily in North Carolina waters without registration, but only for 90 consecutive days provided they are registered in their home state and follow the respective rules and regulations.
To ensure your adventures on North Carolina's waterways are both safe and legal, it's important to understand and adhere to these registration requirements.
How To Register Your Kayak In North Carolina? [2023's Step By Step Guide]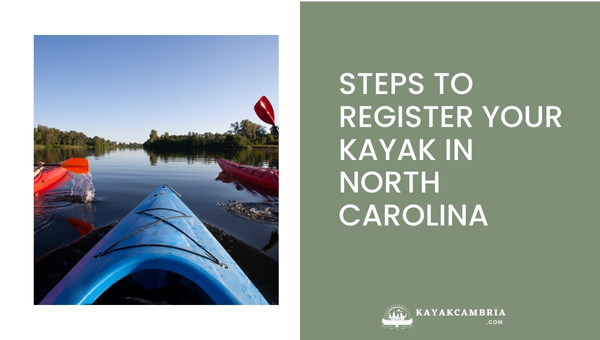 Registering your kayak in North Carolina is a straightforward process. Follow the steps below, and you will soon be on your way to enjoying a great kayaking adventure while adhering to state regulations.
1. Obtain Necessary Forms And Documentation
First, get the required forms and documentation. The primary form needed is the Application for Vessel Number (WN) which can be downloaded from the North Carolina Wildlife Resources Commission website.
2. Complete The Application For Vessel Number
Fill out the Application for Vessel Number accurately and thoroughly. Be sure to provide all of the requested information, including the make, model, and length of your kayak, as well as your personal details such as name, address, and contact information.
3. Provide Proof Of Ownership
When registering your kayak, you will need to provide proof of ownership. This can include a bill of sale, manufacturer's certificate of origin, or a signed-over title from the previous owner. North Carolina requires that boats purchased out-of-state have a valid title from the other state.
4. Pay The Registration Fee
A fee is associated with registering your kayak in North Carolina. The cost will depend on the length of your vessel and the duration of the registration (either one year or three years). You can find the fee schedule on the North Carolina Wildlife Resources Commission website.
5. Display Your Registration Number
Once you have completed the registration process, you will be assigned a registration number for your kayak. This number must be displayed on your kayak in accordance with North Carolina regulations. Typically, it is required to be visible on both sides of the bow. The numbers should be in bold, easy-to-read letters, and must be at least three inches high. They should contrast with the color of your kayak and be clearly visible from a distance.
By following these simple steps, you can register your kayak in North Carolina without any hassle, ensuring that your time paddling is spent enjoying the beautiful waterways without concern for potential violations.
Renewing Your Kayak Registration In North Carolina in 2023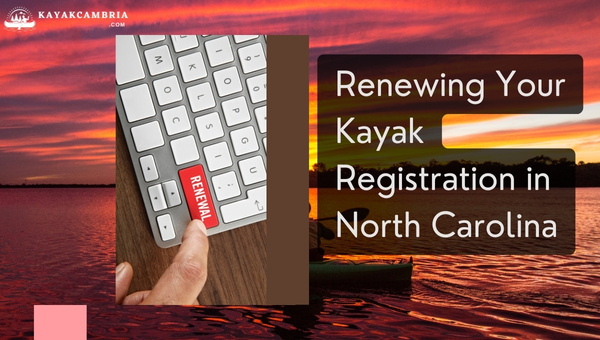 Just as it is essential to register your kayak initially, it is equally important to make sure your registration stays up-to-date. This not only ensures that you remain compliant with North Carolina regulations but also helps to support improvements to local facilities and amenities.
When To Renew Your Kayak Registration
In North Carolina, kayak registrations are valid for three years. It is the responsibility of each kayak owner to renew their registration before the expiration date. To avoid any complications, it is wise to renew your registration close to the expiration date. In many cases, the North Carolina Wildlife Resources Commission (NC WRC) will send an email or mail reminder as your renewal date approaches.
How To Renew Your Kayak Registration
The renewal process for kayak registration in North Carolina is straightforward. You can conveniently renew your registration online through the NC WRC website.
Online Renewal
Visit the NC WRC vessel registration renewal page
Enter the required information, including your current registration number and email address.
Pay the renewal fee using a credit card or electronic check.
Print the confirmation page as temporary proof of registration while you wait for your new registration card and decals to arrive.
In-Person Renewal
Alternatively, you can renew your registration in person at any NC WRC district office or authorized agent. Bring your kayak's current registration card, photo ID, and payment for the renewal fee to facilitate the renewal process.
Updating Your Registration Information
If you need to update any information related to your kayak (such as change of address, kayak modifications, or ownership transfer), it is crucial to notify the North Carolina Wildlife Resources Commission within 15 days. This can be done online, by mail, or in person at a local NC WRC office.
Remember, renewing your kayak registration in North Carolina is not only a legal requirement but also an essential part of being a responsible and considerate kayaker. By keeping your registration up-to-date, you contribute to maintaining the state's beautiful waterways for everyone to enjoy.
Requirements For Paddlesports In North Carolina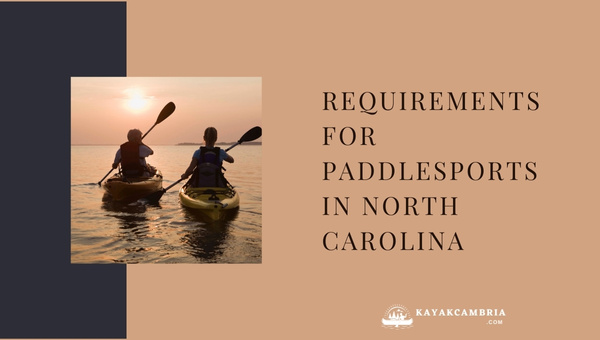 When planning a paddling adventure in North Carolina, it's essential to be aware of the requirements for both safety and compliance with local regulations. By understanding and following these rules, you can ensure an enjoyable and safe experience on the water.
Boating Safety Education For Paddlers
In North Carolina, all individuals born on or after January 1, 1988, are required to take an approved boating safety education course before operating a vessel with 10 HP or more. While kayaks and other paddle-powered vessels usually fall below this threshold, it's still a good idea for all paddlers to complete a boating safety course. These courses cover essential topics such as navigation rules, emergency procedures, and environmental stewardship.
Life Jacket And Safety Gear Requirements
One of the most critical safety measures when kayaking in North Carolina is wearing a US Coast Guard-approved life jacket. All kayakers must have a life jacket readily accessible, and children younger than 13 years old are required to wear a life jacket at all times when on the water.
In addition to life jackets, it's crucial to bring other safety equipment along during your paddling trip. Some essential items include:
A whistle or other sound-producing device
A paddle float (for self-rescue in case of a capsize)
A bilge pump or sponge (to remove water from the kayak)
A dry bag containing first-aid supplies, extra clothing, and a communication device
By keeping these safety requirements in mind, you can focus on enjoying the beautiful waterways North Carolina has to offer, knowing that you're well-prepared for any situation.
Additional Permits For Kayaking In North Carolina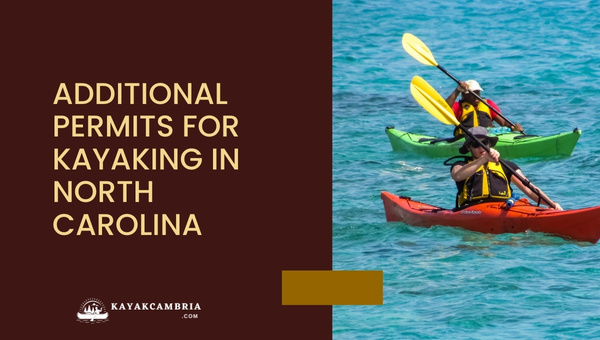 When planning a kayaking adventure in North Carolina, it's essential to be aware of any additional permits that might be required for certain locations or activities. These permits aim to protect the environment, preserve delicate ecosystems, and ensure that everyone has a safe and enjoyable experience. Here are some situations where you might need an additional permit.
Permits For Special Kayaking Locations
Various waterways and locations in North Carolina may have specific permitting requirements for kayaking. In some cases, permits may be required for accessing certain narrow waterways, or areas that are under the jurisdiction of federal, state, or local parks, forests, and refuges. Some areas might have restricted access or seasonal limitations as well. It's important to research individual destinations beforehand and ensure you have the appropriate permits if needed, before launching your kayak.
Wildlife Resources Commission Fishing License
If you plan to take advantage of the excellent fishing opportunities while kayaking in North Carolina, you'll likely need a fishing license. In the state, licenses are overseen by the North Carolina Wildlife Resources Commission. Licenses can be purchased online, at authorized agents throughout the state, and even through the Commission's app, which can be used as proof of purchase. Some exceptions may apply, such as age limits and military discounts, so it's crucial to review the requirements at the Commission's website before casting out.
Types of Fishing Licenses
North Carolina offers various types of fishing licenses to suit the needs of different angling enthusiasts. Examples include:
Annual Licenses: These are perfect for avid anglers who plan on fishing in the state regularly throughout the year.
Short-Term and Ten-Day Licenses: These options are ideal for vacationers or those who plan on fishing only occasionally in the state.
Lifetime Licenses: These provide a one-time fee option for dedicated anglers who want the convenience of not having to renew their licenses every year.
By obtaining the proper additional permits and licenses for your kayaking adventures in North Carolina, you're not only ensuring compliance with local regulations but also contributing to the conservation and management of the state's natural resources. Enjoy the breathtaking beauty and abundant opportunities for kayaking that the Old North State has to offer, knowing you've done your part in preserving it for future generations.
Exploring 2023's Popular Kayaking Spots In North Carolina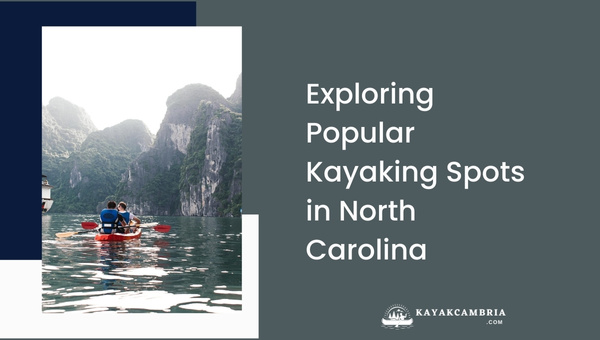 North Carolina boasts a diverse array of kayaking locations for paddlers to explore. From serene mountain lakes to coastal adventures, this state has something for everyone. Here are some popular kayaking spots in North Carolina that you should consider for your next paddling adventure:
1. Lake Norman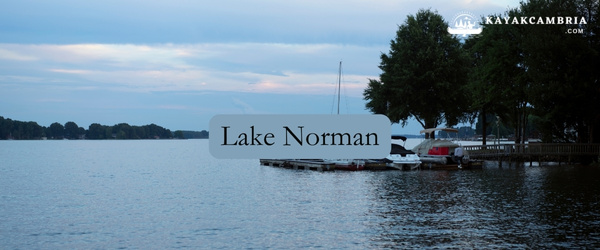 Located just north of Charlotte, Lake Norman offers over 500 miles of coastline for paddlers to explore. As North Carolina's largest man-made lake, kayakers are bound to find a secluded spot to enjoy the picturesque scenery of the shoreline. Paddling opportunities range from serene waterways to open water areas, making it ideal for both beginners and experienced paddlers.
2. Cape Fear River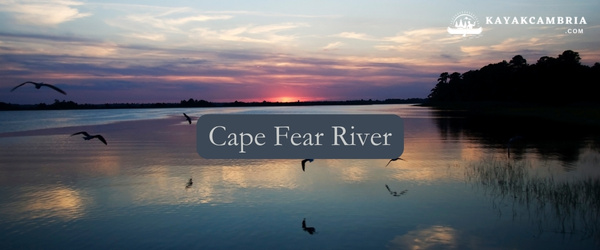 Running through the heart of North Carolina, the Cape Fear River offers a diverse range of kayaking experiences. Paddlers can discover cypress swamps, river bluffs, and various wildlife along its course. With over 200 miles of navigable water, the Cape Fear River provides ample opportunities for both day trips and multi-day expeditions.
3. Fontana Lake
Nestled in the Great Smoky Mountains, Fontana Lake offers a pristine, mountainous backdrop for a memorable kayaking adventure. The beautiful mountain scenery and crystal-clear waters combine to create a truly serene paddling experience. The lake is also surrounded by various access points and campgrounds, ensuring a convenient and enjoyable trip for all skill levels.
4. The Crystal Coast
Home to gorgeous beaches and intricate waterways, North Carolina's Crystal Coast is an extraordinary destination for kayakers. From exploring the historic coastal towns to venturing out into the Atlantic Ocean, there are endless opportunities for adventure along this stretch of coastline. Paddlers should be sure to visit the Rachel Carson Reserve or Cape Lookout National Seashore for a mixture of wildlife sightings and natural beauty.
5. The Great Smoky Mountains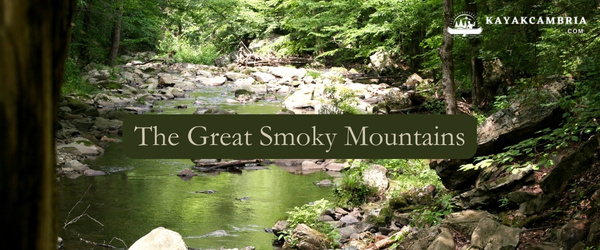 With a variety of rivers, streams, and lakes to explore, The Great Smoky Mountains National Park is a haven for kayakers seeking adventure. The park's rugged terrain boasts extraordinary scenery, making it perfect for those looking for a wild and untouched kayaking experience. Some popular paddling spots in the park include Chilhowee Lake, Fontana Lake, and the Pigeon River.
By exploring these popular kayaking spots in North Carolina, you're sure to embark on a paddling adventure that will leave you with unforgettable memories.
Tips For Safe And Responsible Kayaking In North Carolina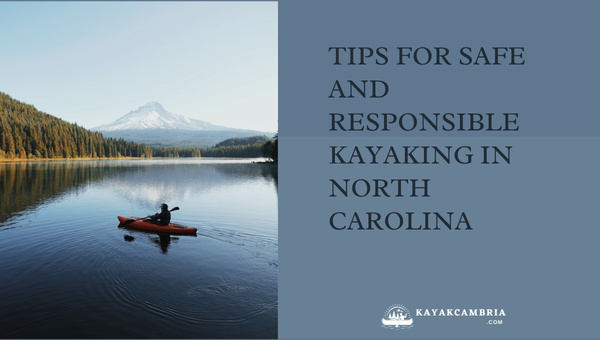 One of the most important aspects of enjoying your kayaking adventures is ensuring that you are always practicing safe and responsible kayaking. Below are some essential tips to help you make the most of your time on the water while keeping yourself and the environment safe.
Be Prepared
Before you set out on your kayaking journey, it is crucial to properly prepare for your trip. This includes:
Obtaining required permits: Ensure you have all necessary permits for the area you will be paddling in and follow any restrictions or guidelines.
Checking weather conditions: Verify the weather forecast before you leave and be prepared for any sudden changes.
Choosing the right gear: Make sure you have the appropriate kayak, life jacket, paddles, and wet or dry suits for the season and weather conditions.
Packing safety equipment: Equip your kayak with essential safety gear like a whistle or air horn, signal flare, bilge pump, spare paddle, and first-aid kit.
Adhere To Local Rules And Regulations
It's essential to follow all local rules and regulations when kayaking in North Carolina:
Stay within designated areas: Some waterways may have restrictions or designated areas for paddlesports. Stick to these areas to avoid conflicts with other boaters or wildlife.
Follow navigation rules: Abide by traffic patterns, navigational signage, and buoys for safe movement on the water.
Be Mindful Of The Environment
When you're kayaking, it's essential to respect the environment around you:
Dispose of waste properly: Leave no trace by carrying out all trash and disposing of it appropriately on land.
Avoid sensitive areas: Stay clear of nesting sites, feeding areas, or other sensitive habitats for birds and wildlife.
Prevent the spread of invasive species: Clean, drain, and dry your kayak and gear after each use, especially when moving between water bodies.
Practice Kayak Safety And Etiquette
Lastly, practicing good kayak safety and etiquette is essential for having a pleasant kayaking experience in North Carolina:
Know your limits: Paddle within your skill level and abilities, and always stay alert to conditions that may change throughout your trip.
Communicate with others: Let someone on land know your planned route and expected return time, and be prepared to signal others on the water using a whistle or other signaling devices.
Respect other boaters: Be courteous to others on the water by maintaining a safe distance and avoiding causing unnecessary wake or disruptions.
Learn basic rescue techniques: Learn self-rescue and assisted rescue techniques, so you are prepared in case of a capsize or emergency situation.
By following these tips, you can ensure a safe and enjoyable kayaking experience in North Carolina while respecting the environment and fellow kayakers.
Connecting With The Kayaking Community In North Carolina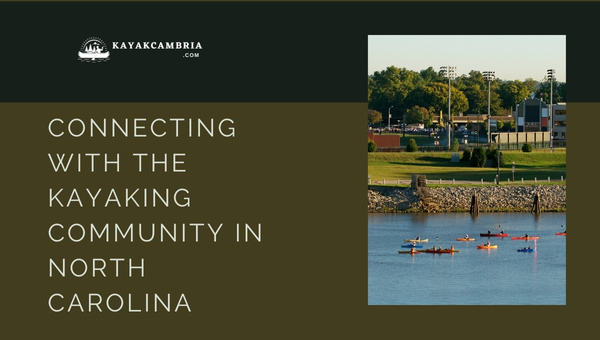 One of the most rewarding aspects of kayaking is getting to know and becoming a part of the vibrant and supportive paddling community. North Carolina is home to many passionate kayakers, and it can be both fun and beneficial to engage with others who share your enthusiasm. Here are some useful resources and tips to help you connect with the kayaking community in North Carolina:
Kayaking Clubs And Organizations
North Carolina Paddle Trails Association (NCPA): This organization works to promote and develop water trails throughout the state. They are a valuable resource for exploring the state's waterways and connecting with other paddlers.
Meetup: North Carolina Kayaking Groups: Several local and regional kayaking groups are available on Meetup, where you can find and join events catered towards differing interests and skill levels. You can check out available kayaking Meetup groups in North Carolina by visiting this link.
Attending Kayaking Events And Competitions
North Carolina hosts various kayaking events and competitions throughout the year, including races, clean-up initiatives, and educational outings. These events provide an excellent opportunity to meet fellow kayakers, enjoy group paddling experiences, and even challenge yourself in a more competitive environment.
Some popular kayaking events in North Carolina include:
Great Chesapeake Bay Paddle: A multi-day event typically taking place in September, covering over 100 miles around the Chesapeake Bay. It's an excellent opportunity for kayakers of all ages and skills to meet, paddle, and have fun together.
Lumber River Race: This fun race takes place in Lumberton, North Carolina, every year. It features various classes, including recreational and family categories, allowing paddlers at all skill levels to participate.
Neuse River Cleanup: As responsible kayakers, it's essential to care for nature and help protect the beautiful waterways we paddle in. You can join the Neuse Riverkeeper Foundation's occasional clean-up events to contribute to the cause and meet other environmentally-conscious paddlers.
Connecting Through Online Forums And Social Media
Thanks to the internet, it's now easier than ever to connect with fellow kayakers across North Carolina from the comfort of your home. Online forums, Facebook groups, and subreddits can provide insight, advice, and camaraderie with other kayakers across the state. Some popular online platforms to find other kayakers in North Carolina include:
North Carolina Paddlers Facebook Group
/r/Kayaking subreddit on Reddit
By engaging with the kayaking community in North Carolina, you'll expand your knowledge, make new friends, and create amazing paddling memories along the way.
Frequently Asked Questions
1. Do I need to register my kayak in North Carolina?
North Carolina requires registration for all motorized boats, including those with trolling motors. Non-motorized kayaks, canoes, and paddleboards do not require registration. However, if you decide to add a motor to your non-motorized vessel, you must register it with the North Carolina Wildlife Resources Commission (NCWRC).
2. What's the cost of registering a kayak in North Carolina?
The registration cost depends on the term you choose. For North Carolina, you can register your motorized kayak for 1 year or 3 years. As of this writing, the 1-year registration fee is $20, and the 3-year registration fee is $52. For the most up-to-date registration fees, check the official North Carolina Wildlife Resources Commission website.
3. How do I properly display my registration number on my kayak?
Once you receive your registration numbers, you should display them on both sides of the kayak's bow. The numbers should be in bold, block letters, at least 3 inches high, and easy to read. Make sure there is a clear contrast between the numbers and your kayak's hull color.
4. Can I use my registered kayak from another state in North Carolina waters?
Yes, you can use your out-of-state registered kayak in North Carolina waters for up to 90 consecutive days without registering in the state. However, once you exceed 90 consecutive days, you must register your kayak with the NCWRC.
5. What happens if I sell my registered kayak?
If you sell your registered kayak, you must inform the NCWRC and give the new owner the vessel's title and registration information. The new owner is then responsible for transferring the registration within 15 days of the purchase date. You should also remove the registration numbers from your kayak before transferring ownership.
6. How do I update my registration information if I move or my contact details change?
If your address, phone number, or other contact information changes, you should promptly update your information. Changes can be made online at the NCWRC's customer account portal.
7. Can non-residents register their kayaks in North Carolina?
Yes, non-residents can register their motorized kayaks in North Carolina. To do so, follow the same registration process laid out in this article. However, non-residents must provide proof of residency in their home state to complete the registration process.
Conclusion
Registering your kayak in North Carolina is an essential step towards enjoying a worry-free and legal kayaking experience. As responsible kayakers, it is crucial that we adhere to local rules and regulations, ensuring that our beloved waterways are protected and safe for everyone. By making sure to complete the registration process and follow safety guidelines, you can be confident that your kayaking adventures will be both fun and legitimate.
Moreover, exploring North Carolina's vast and beautiful kayaking spots will undoubtedly bring you closer to nature and foster a strong sense of community among fellow paddlers. Happy paddling, and don't forget to register your kayak!