Kayaking is a thrilling activity for anyone! No matter if you are new to it or a pro, there are plenty of reasons to get out and enjoy this exhilarating experience. As with any outdoor pursuit, though, it helps to be prepared and informed before heading outside.
Packing for a kayaking trip is an integral part of the planning process. If you want to be adequately equipped, it's essential that you pack appropriately. You'll need clothes to keep you warm against the cold water and protect your skin from UV rays. Here we will talk about what you need to wear when kayaking in order to stay safe and comfortable.
It goes without saying, but PFD (Personal Flotation Device) makes for an essential piece of clothing that you will need while kayaking. So, whatever the weather be, carrying and wearing PFD is crucial.
Clothes to wear for kayaking during summer
If you are not going kayaking during scorching weather, then getting dressed for kayaking is not that big of a task. You can wear regular comfortable clothes. As you progress through this article, you will see the emphasis laid on layering your clothes regardless of which season you are planning to go kayaking.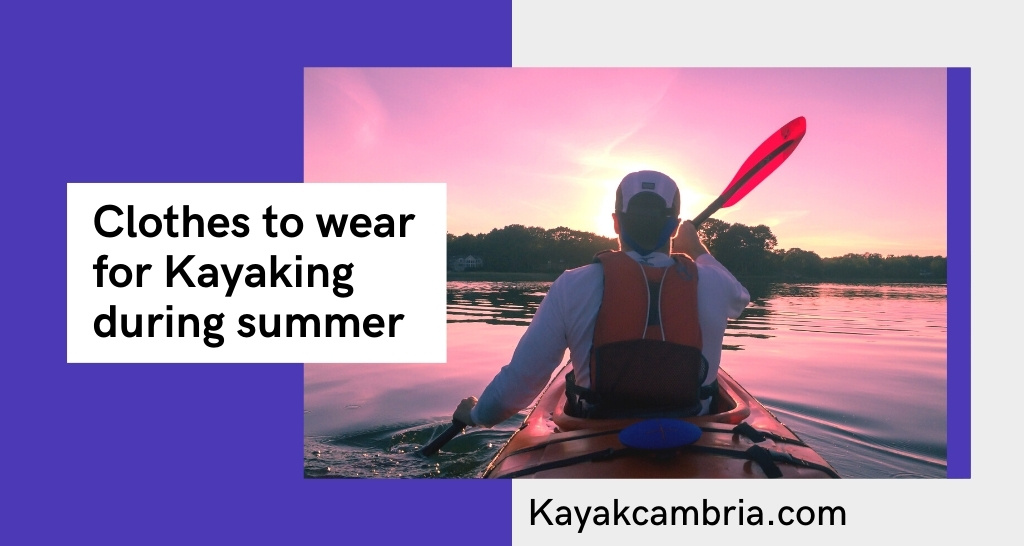 So, here are some summer-appropriate layering options,
For Base Layer: A swimsuit is a preferred base layer by many kayakers because it gives good protection against heat damage. Alternatively, you can also go for water-wicking clothes.
For Top Layer: You can top off the base layer with athletic wear, a rash guard, or a fishing shirt. These are some options you can choose from according to what's available and what kind of fitting you desire.
For Bottom: Anything that dries quickly will be a good bottom clothing choice. Boardshorts, neoprene shorts, or swim shorts are excellent options. You can also consider cargo shorts as they provide ample small storage space.
For Feet: Neoprene boots are one of the best options for kayakers. They keep water out and are non-slip, which means you can wear them on boat decks. The neoprene boots are also relatively lightweight, making them easy to wear while kayaking.
Water sandals are another option, but they tend to slip out. They don't provide as much protection as Neoprene boots do.
Some additional accessories that you can carry for your summer kayaking trip are:
Sunglasses
Sun hat
Towels
Clothes to wear for kayaking during winters
When you are kayaking during the winter months, it is essential to keep yourself warm. Rule number one to do that is no matter how much calm waters you'll be kayaking in, always dress for the worst-case scenario. While kayaking in cold water, that worst-case scenario can be dangerous.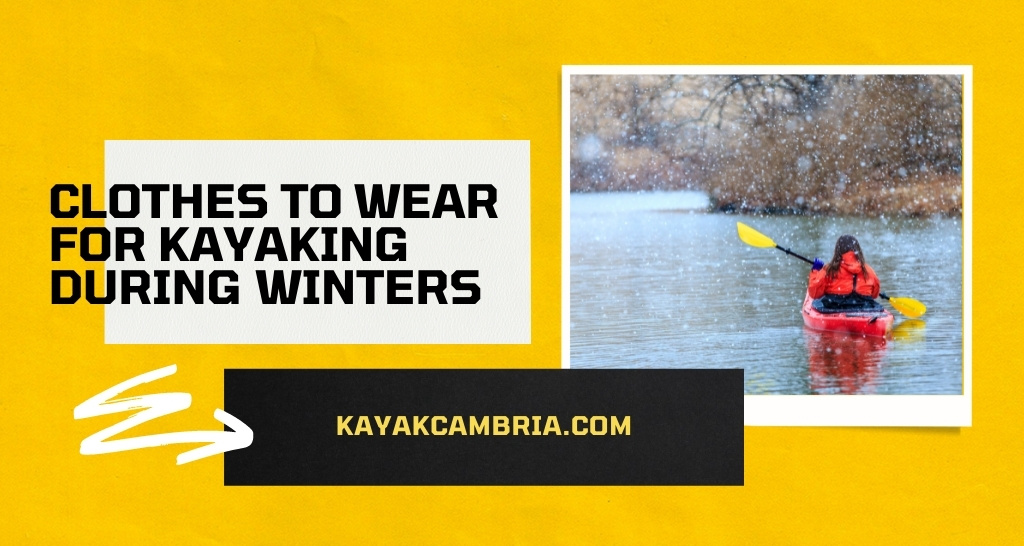 Wetsuits and drysuits are the two best suited if you are going to kayak in cold waters. Both of them function differently, so let's understand that.
1. Wetsuit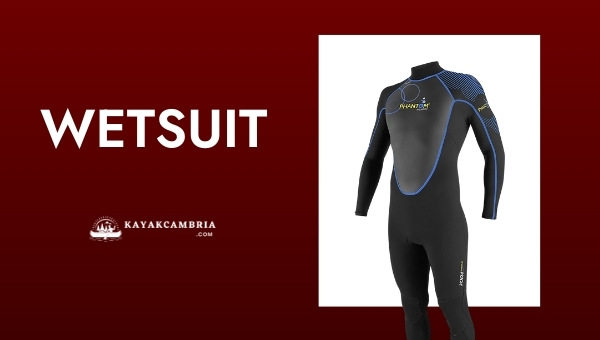 The fabric of wetsuits, unlike dry suits, allows water to pass through. The thin layer of water that form inside the suit then gets heated from the body temperature and provides insulation. But the major drawback of wearing a wet suit during winter months while kayaking or other water activities can be overheating and sweating too much inside, which could lead to hypothermia.
2. Dry Suit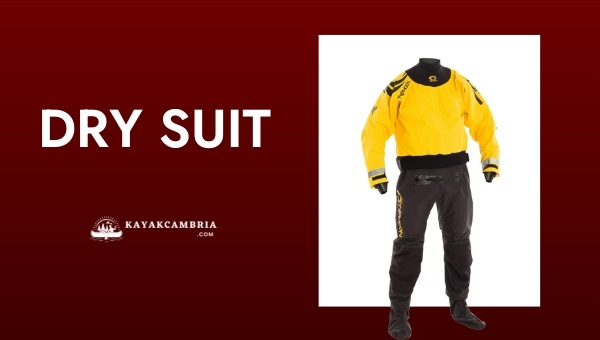 A dry suit is a garment worn over the body and designed to protect wearers from hypothermia while they are in the water.
The fabric of the dry suit completely prevents the water from passing through it. It is a heavy and thick garment that provides insulation, which keeps wearers warm in cold water. The major disadvantage of using dry suits during winter months while kayaking or other water activities is that they can be very bulky.
When buying a wetsuit or drysuit, make sure you get one that fits you well; otherwise, it will be challenging to move around.
3. Layering Wetsuit and Drysuit
One can wear a swimsuit as a base layer for both a wetsuit and a dry suit. It is not essential to wear an outer layer with either of the suits.
4. Footwear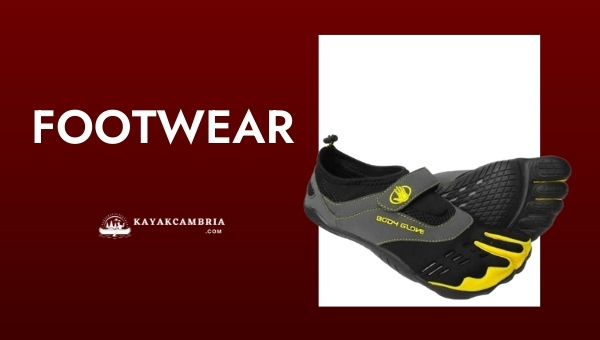 Again, neoprene boots paired with warm socks will keep your feet both warm and dry.
Some additional accessories that you can carry for your winter kayaking trip are:
Warm clothing layers such as sweaters and jackets
Thermal hats/ beanies
Waterproof gloves or mittens
Sunglasses and sunscreen if the weather is not very cold.
Clothes to wear for kayaking during spring and fall
Spring is an ideal time to go kayaking. Temperatures are pleasant, and the water levels are high, which makes it easy for you to navigate small creeks with ease. Just make sure that you dress accordingly before going out on your spring kayaking trip.
It is often the case that weather might lean on the colder side in the morning but starts getting hotter as noon approaches. So, our clothes suggestion for the summer season can serve as the base layer, and you can go for warmer clothes on top of that. You can just remove the layers as the day starts getting hotter.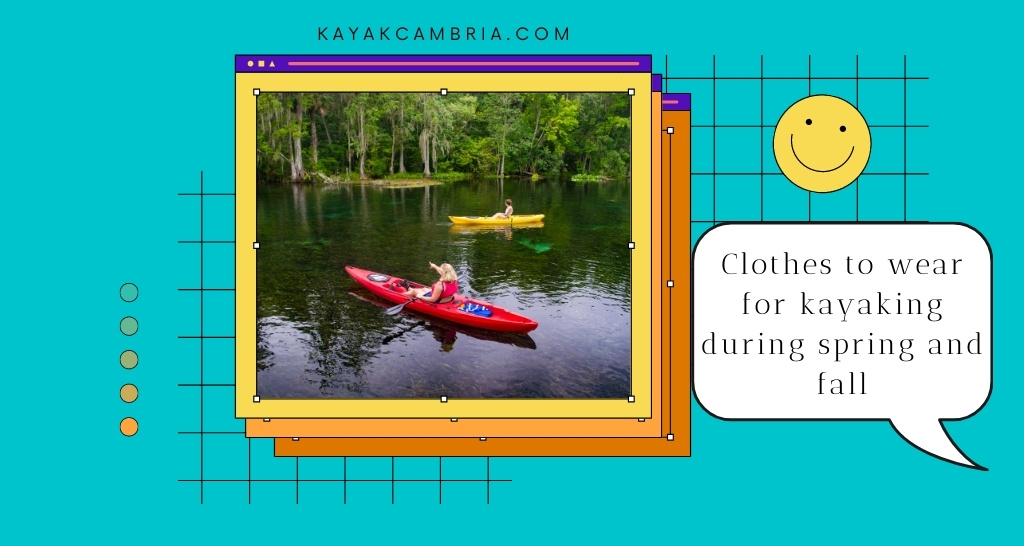 For Mid-layer: A fleece jacket or a wool jacket will make for a protective mid-layer. You can also wear full sleeves shirts.
For Top Layer: Top off the mid-layer with a raincoat or a windbreaker. This will not only provide good insulation if it gets too cool, but it will also save you from getting wet.
For Feet: For a multi-day kayak camping adventure in the spring months, neoprene boots would be an ideal choice because they keep water out and insulate feet from cold surfaces while providing a good grip. They are best recommended for kayaking.
Since weather conditions are primarily similar for spring and fall, you can use the spring clothing recommendation for the fall season as well.
Kayaking essentials for every season
Apart from the clothing mentioned above, you can also carry the additional accessories mentioned below: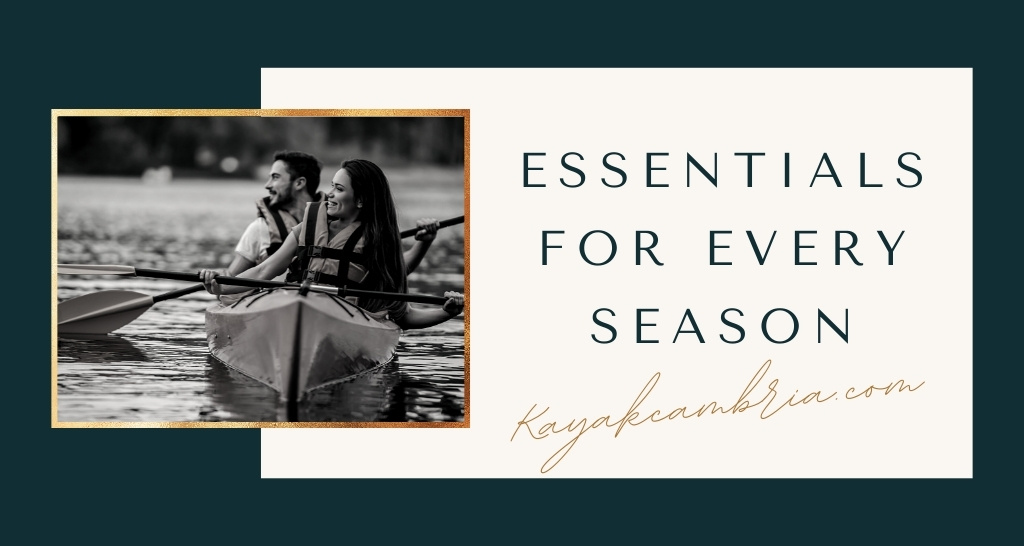 A dry towel
PFD (personal flotation device)
A fishing vest with plenty of pockets.
Sunscreen and lip balm
A beanie or a sunhat/cap depending on the weather
Waterproof gloves
Conclusion
Kayaking is a fun hobby that you can do in many different seasons. But it would be hard to go kayaking without the right clothes for every season. First, make sure about the water level and weather before heading out on your trip, then follow our tips given above regarding clothing for each of these four seasons, which will make your experience more comfortable and safe.
We hope you make the most out of your next kayaking trip!