When shopping for a kayak, it's natural to wonder when do kayaks go on sale. After all, who doesn't want to save a bit of cash on their outdoor gear? I've got some useful tips to help any aspiring paddler find the best deals on kayaks.
The first thing you should know is that kayaks typically go on sale during a few key times throughout the year. One of those times is at the end of the summer season when retailers are looking to clear out their inventory to make room for new models and other seasonal merchandise. This is a great opportunity to snag a deal, as discounts can range from 20% to even 50% off.
Another time to keep an eye out for kayak sales is around holiday weekends, such as Memorial Day, Independence Day, and Labor Day. Retailers often have special promotions and discounts during these times to encourage sales. To be prepared, it's a good idea to follow your local outdoor retailer or sign up for their newsletter so you'll be first to know about upcoming sales events and can plan accordingly.
Seasonal Kayak Sales: When To Look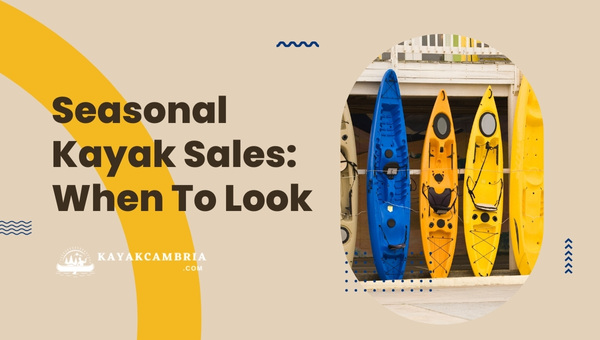 As someone passionate about kayaking, I understand the importance of finding the perfect kayak at the best price. Let's dive into the best times to look for seasonal kayak sales.
The end of summer and the beginning of fall, typically late August to early September, is a prime time to find discounted kayaks. Retailers are looking to clear out inventory to make room for new products, and they'll often slash prices on remaining stock. Paddling enthusiasts can find great deals during this time.
Another excellent time to find deals on kayaks is during major holidays, such as:
Labor Day Weekend
Black Friday and Cyber Monday
Memorial Day Weekend
These holidays may bring about limited-time promotions and special discounts, but it's important to act fast as these offers may not last long.
Outdoor expos and trade shows can also present opportunities to score a great deal on a kayak. Exhibitors often offer special pricing exclusive to the event and may be looking to sell off their display models. Keep an eye out for:
Local boat shows
Outdoor expos focused on water sports
Paddling festivals
Additionally, end-of-season clearances for specific kayak models or brands can lead to substantial discounts. As new products come onto the market, manufacturers and retailers will want to move their older inventory, presenting an excellent opportunity for bargain hunters. Don't be afraid to inquire about any potential sales or discounts on discontinued models.
Lastly, consider looking at used kayak options. Many people upgrade their gear or switch hobbies, making it possible for you to score a quality, gently-used kayak at a fraction of the cost. Some places to explore include:
Online classifieds
Local paddling clubs
Social media groups specific to kayaking
Some prime times to find seasonal kayak sales are during the end of summer and the beginning of fall, major holidays, outdoor expos, end-of-season clearances, or by looking for a used kayak. Utilize these opportunities, and you'll likely score an affordable, high-quality kayak for your next adventure.
When Do New Kayak Models Come Out?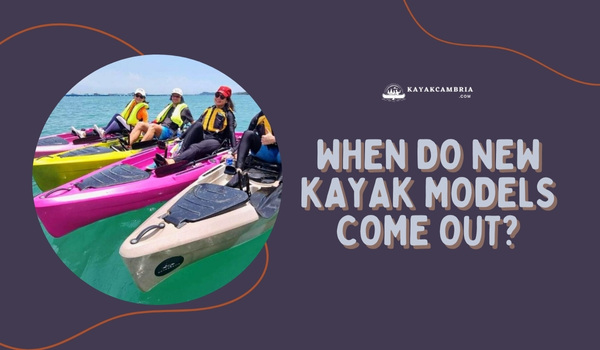 As a paddling enthusiast, I always keep an eye out for the latest and greatest kayak models. The exciting news is that new kayak models generally come out at the beginning of the year, usually in the late winter or early spring months. This is the time when manufacturers launch their newest designs and innovations, hoping to entice paddlers like me to upgrade or expand our kayak collection.
Typically, outdoor and watersports expos take place during the first few months of the year, so it makes sense for manufacturers to time the release of their new kayak models to coincide with these events. This allows buyers to see the latest offerings in person, attend demonstrations, and ultimately make an educated decision about which new kayak to purchase.
Just as with any other product release cycle, older models may see a price drop once new ones are introduced. If you're not set on having the latest kayak on the market, keep an eye out for deals on last year's models. Retailers will often reduce prices to clear out their inventory and make room for new arrivals. This can be a great opportunity to score a deal on a high-quality kayak that may only have a few minor differences from the latest model.
Do Kayaks Get Cheaper In The Winter?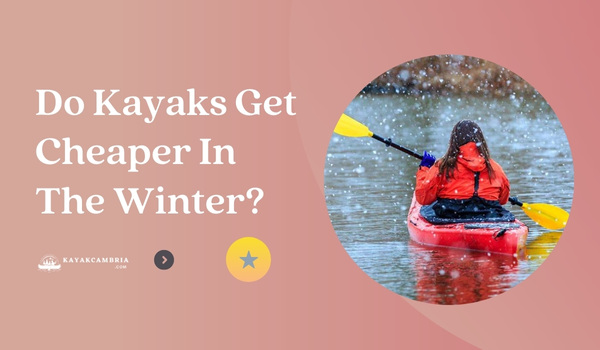 Many people wonder if kayaks get cheaper in the winter, and the answer is both yes and no. While winter may not provide the same level of water sports excitement for many people, it does present a unique opportunity for savings on kayaking equipment, including kayaks themselves.
During the winter months, outdoor retailers often start to shift their focus from water sports gear to other seasonal items such as winter sports equipment and cold-weather apparel. This change often leads to discounts on kayaks as the stores attempt to clear out their inventory. Although the discounts may not be as deep as you would find during end-of-summer sales, you can still find some great deals on last season's models.
One reason the deals might not be as lucrative during the winter months is that demand for kayaks can be lower, and retailers may not feel the immediate pressure to sell their remaining inventory. However, if you're willing to brave the cold and venture into your local outdoor shop during these months, you might just come across a hidden gem at a fantastic price.
It's also important to consider online retailers, as they often offer discounts throughout the winter season as well. Subscribe to newsletters or follow the social media accounts of your favorite kayak brands and retailers so you'll be in the loop on sales and deals. This way, even if you can't make it to the store in person, you may still be able to grab a great deal online.
Retailer Promotions: Staying Informed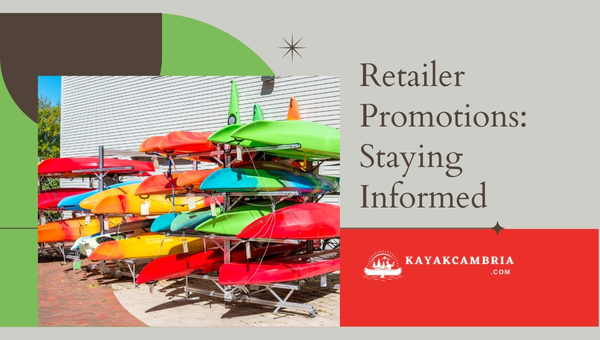 When we're on the lookout for kayak sales, it's essential to stay informed about retailer promotions. Don't worry, I've got you covered with the best ways to stay updated on kayak sales and promotions from various retailers.
First, be sure to sign up for newsletters from top kayak retailers. These are great sources of information when it comes to announcing sales and promotions. As a bonus, you'll often receive exclusive offers, deals, and discounts in your inbox. Some popular retailers you can consider include:
REI
Cabela's
Bass Pro Shops
Dick's Sporting Goods
It's also worth keeping an eye on industry events and expos. Kayak and outdoor gear retailers often offer discounts during these events as a way to generate excitement amongst the attendees. Some well-known events to consider are:
Paddlesports Retailer
Outdoor Retailer
Another way to find out when kayaks go on sale is by browsing online forums and social media groups dedicated to kayaking, canoeing, and other watersports. Community members often post about upcoming sales or their recent experiences with retailers, so it can be a valuable source of information. Examples of such communities are:
Reddit's r/kayaking subreddit
Facebook groups focused on kayaking and other paddlesports
Last but not least, it's also a good idea to keep an eye on retailers' websites and physical stores. Some may even have a clearance section or regular sales events, showcasing discounted items including kayaks.
By using the techniques mentioned above, I'm confident that you'll be well-prepared for when kayaks go on sale and able to secure yourself a fantastic deal.
When Do Kayaks Go On Sale At Popular Outlets?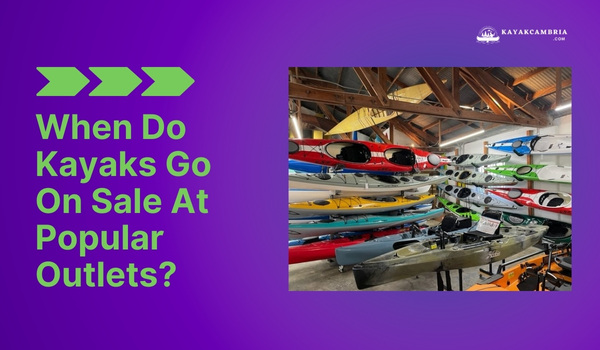 1. At Costco
As a frequent Costco shopper, I can tell you that the store offers sales on kayaks around the end of summer or early fall, usually between August and September. However, keep in mind that their stock might not be as diverse as specialty sporting retailers, but the discounts can be quite substantial.
2. At Academy
I've noticed that Academy holds sales on kayaks during late spring or early summer, which is perfect for those looking to kick off the paddling season with a new kayak. Additionally, Academy features discounts during holiday weekends, so be on the lookout for potential deals around those times.
3. At Bass Pro
Being an outdoors enthusiast, I've learned that Bass Pro hosts the "Spring Fishing Classic" event, which typically happens in February or early March. During this time, they offer some excellent discounts on kayaks and other outdoor gear. Another good time to check for kayak sales at Bass Pro is around the end of summer or other holiday weekends.
4. At Walmart
While Walmart might not be the first store that comes to mind when looking for a kayak, they do carry a selection of kayaks perfect for beginners. Based on my own shopping experiences, Walmart tends to have sales on kayaks in late summer around August or September, similar to Costco.
5. At Canadian Tire
For kayakers in Canada, the ideal time to shop for kayaks at Canadian Tire is during their summer clearance event, which usually takes place between late August and early September. Furthermore, Canadian Tire tends to have sales on kayaks during holiday weekends and special events like Canada Day or their Anniversary Sale.
By keeping these major retailers and their sales periods in mind, you can score great deals on kayaks and enjoy the satisfaction of saving some hard-earned money.
End-Of-Season Clearance Sales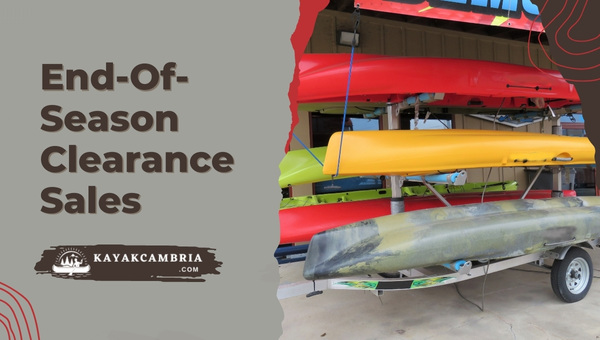 I've found that the end-of-season clearance sales are often the best time to nab a good deal when you're on the lookout for when kayaks go on sale. These sales typically take place as the kayaking season draws to a close, and retailers attempt to clear out their inventory to make room for next year's models.
Most often, these clearance sales take place during the fall and early winter months. To snag a good deal, it's recommended to start keeping an eye out for sales in late September through December. By taking advantage of these sales, you can save a significant chunk of your budget as discounts can range from 20% up to 50% off the regular retail price. Here are some general markdowns you might expect:
20-30% off: Late September to October
30-50% off: November to December
While browsing for kayaks during these sales periods, you'll likely come across several types and brands on offer. To maximize your chances of finding the perfect kayak at a discounted price, consider the following strategies:
Research beforehand: To buy a kayak that meets your needs, be sure to familiarize yourself with different kayak types, materials, and brands before the sales begin. This will help you make a more informed decision when it's time to buy.
Subscribe to newsletters: You may want to sign up for newsletters from your favorite kayaking and outdoor gear stores. This will keep you informed about upcoming sales, discounts, and special offers.
Shop around: Don't limit yourself to just one retailer. Comparing prices and offers from multiple retailers will increase your chances of finding the best deals when kayaks go on sale.
Browse online: Don't forget to check online retailers as well. Many online stores offer clearance sales on kayaks, and you might even find exclusive online-only deals.
Remember, while the end-of-season clearance sales are a fantastic time to find discounted kayaks, it's essential to stay vigilant and prepared as popular models, sizes, and colors tend to sell out quickly. If you miss out on a deal, don't fret; you can still look for sales on last year's models or check out pre-owned gear shops for more budget-friendly options.
Pre-Owned Kayaks: Scouting The Market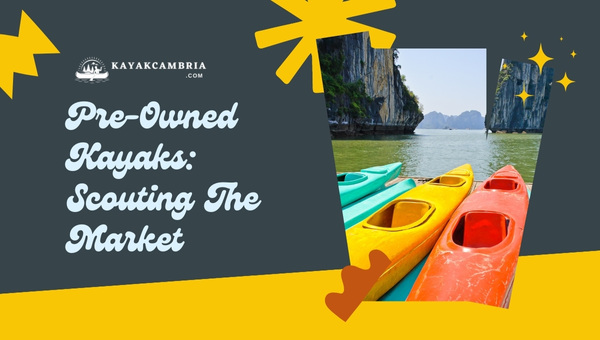 When searching for a great deal on a kayak, it's essential to keep an eye out for pre-owned options. These gently used kayaks can offer significant savings compared to buying brand new. In fact, when do kayaks go on sale may not even be a concern anymore, as the used market can provide excellent discounts year-round.
In order to find the best deals on pre-owned kayaks, it's important to know where to look. Several sources can offer a wealth of information and options for used kayaks:
Online marketplaces: Websites like Craigslist, eBay, and Facebook Marketplace are popular choices for connecting sellers with potential buyers.
Local outdoor outfitters: Some shops sell used equipment in addition to their regular inventory, so it's worth checking with them for availability.
Kayak clubs and community groups: Often, members will post about their available kayaks for sale in online forums or community boards.
When examining a pre-owned kayak, it is crucial to inspect the vessel for any signs of wear and tear. Look out for:
Deep scratches or gouges in the hull
Cracks or damage to the cockpit rim
Loose or missing hardware
Faded or peeling decals
To make the most out of the used kayak market, timing is key. While deals may pop up year-round, certain times of the year may yield better opportunities:
Late summer/early fall: This is when many seasonal kayakers will be looking to offload their equipment before winter storage becomes a concern, resulting in more options and potentially lowered prices.
End-of-season sales: Retailers might be clearing out rental fleets or trying to move excess stock, providing eager buyers with reduced prices on used kayaks.
Keep in mind, pre-owned kayaks can vary greatly in terms of quality, features, and price. Some key factors to consider when comparing options include the type of kayak, materials, and intended use. Setting a budget and keeping a list of essential features will help guide your search for the perfect used kayak.
Conclusion: Timing Your Kayak Purchase
When pondering the question, "When do kayaks go on sale?", it's essential to consider the different factors that influence the prices of kayaks in the market. These factors typically include seasonality, regional popularity, and sales events.
One of the most significant factors that impact kayak prices is seasonality:
Fall and winter are generally the best times to find kayaks on sale, as this is the off-season for most kayaking activities.
Spring and summer months might not offer as many price reductions, but you can still find deals if you're diligent in your search.
Regional popularity also comes into play when determining when kayaks go on sale:
In areas where kayaking is a popular activity, expect to see discounts more frequently to stay competitive among retailers.
Conversely, if kayaking is less popular in a specific region, there might be fewer sales events but possibly better prices due to lower demand.
Lastly, keep an eye out for sales events, such as:
End-of-season clearances
Holiday sales (e.g., Black Friday, Cyber Monday)
Local store anniversary sales
It's always essential to do your research and stay updated on current deals from various retailers. This way, you'll be well-prepared when the perfect kayak sale comes your way. By timing your kayak purchase appropriately, you can save money and make the most out of your new paddling adventures!