Ah, the thrill of kayaking! With each stroke, we move closer to nature, experiencing firsthand the beauty and serenity that lies just beyond our busy lives. From tranquil lakes to roaring rapids, there's a kayaking adventure for everyone, regardless of the experience level. But as passionate enthusiasts and nature seekers, one question often pops up in our minds: can a kayak fit in a car?
The quest to transport your kayak may seem daunting, especially when faced with the plethora of choices available in the market. From kayaks specifically designed for easy transportation and storage to various mounting systems customized for vehicles, figuring out the right solution can feel overwhelming. But don't worry, fellow adventurers! Together we'll explore the possibilities, weigh the pros and cons, and answer the question of whether a kayak can indeed find a spot inside or outside of your car.
As we embark on this journey, let us first understand the varying dimensions of car interiors as well as the various sizes of kayaks we come across. In doing so, we can assess the compatibility, and better decide if the two can be harmoniously paired. After that, we'll dive deep into different transporting methods, safety, and practicality concerns to ensure your kayak arrives at your chosen destination without a hitch.
So, strap on your life jacket and let's paddle our way toward a better understanding of transporting your precious vessel. Soon, you'll gain the necessary knowledge to confidently load up your prized kayak and hit the road, ready for your next great adventure!
Assessing Your Car And Kayak Size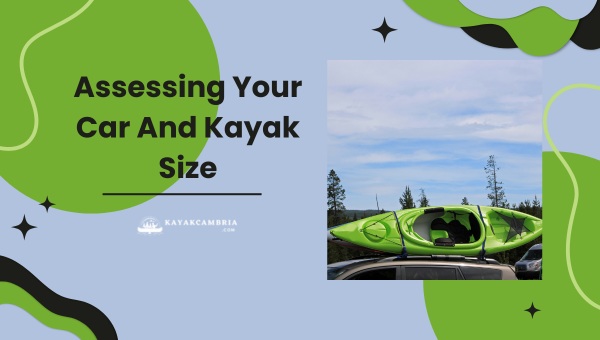 Before diving into the specifics of making your kayak fit your car, it is essential to understand the dimensions of both. The size of your car's interior, as well as the type of kayak you have, will significantly impact your ability to store and transport your beloved vessel.
Sedan, Hatchback, And SUV Interiors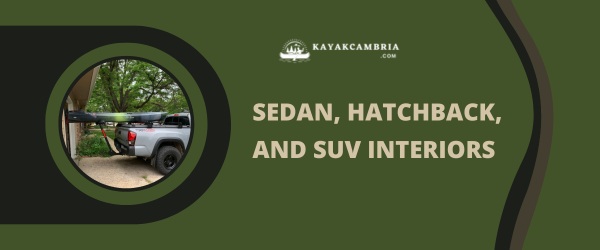 First and foremost, take a thorough look at your car's interior. The available space in a sedan, for example, may differ vastly from that of an SUV or a hatchback. Check the width and length of the interior space in each of these car types to see what you're working with.
If you have a sedan, you might find that the trunk opening is narrow, which will limit the size of the kayak you can transport. On the other hand, hatchbacks and SUVs often have more spacious interiors, which might make it possible to transport slightly larger kayaks.
Kayak Dimensions: Recreational, Touring, And Whitewater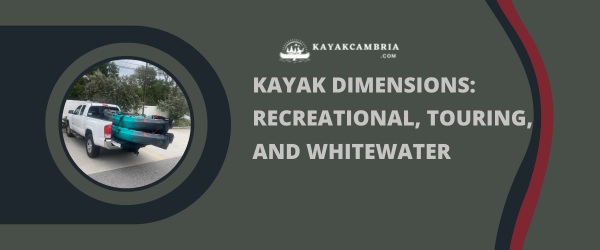 Now that you're aware of your car's size, it's time to consider your kayak's dimensions. Kayaks come in various shapes and sizes, from recreational to touring and whitewater models.
Recreational kayaks are usually shorter, typically ranging between 9-12 feet in length.
Touring kayaks are designed for longer trips, ranging from 12-17 feet, and sometimes even longer.
Whitewater kayaks are specifically engineered to maneuver rapids, which requires a shorter length – usually around 6-10 feet.
Take note of your kayak's dimensions, paying particular attention to its length and width.
Understanding Potential Limitations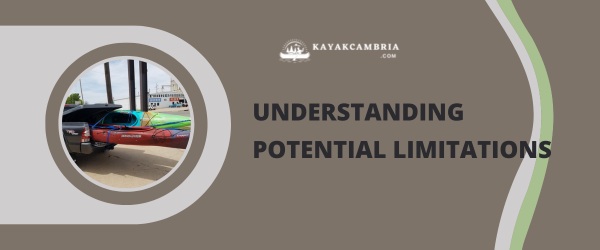 Once you have the measurements of both your car and kayak in hand, think about the potential challenges that may arise in attempting to combine the two. Will you need to settle for a smaller kayak due to your car's size or consider upgrading your vehicle to accommodate your watercraft more easily?
By carefully considering these factors, you will be better equipped to find the perfect solution for storing and transporting your kayak. In the following sections, we'll explore various options for fitting a kayak in your car and highlight key considerations along the way.
Explore Inside And Outside Car Options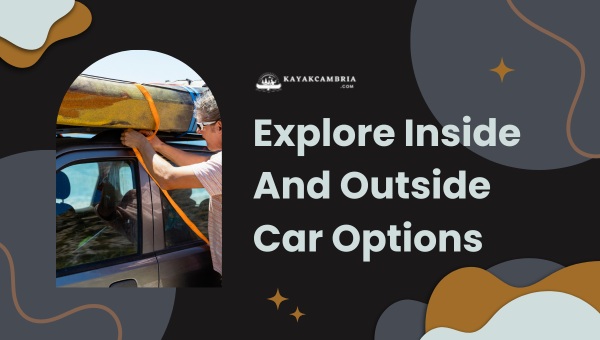 When it comes to fitting a kayak in a car, there are generally two options: inside and outside. Let us examine both options and find out various techniques to make it work smoothly.
Loading Your Kayak Inside Your Car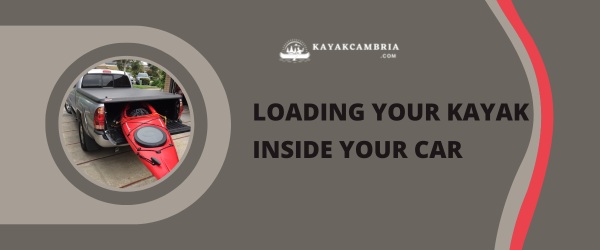 For those who own smaller vehicles or do not wish to install roof racks, an inflatable or folding kayak could be the perfect solution. These types of kayaks are designed for easy transportation and storage. They can easily be deflated, folded up, and stowed away in the trunk or the backseat of your car.
This is an excellent alternative if you want your kayak to be entirely protected during transportation and allows you to avoid the hassle of having to secure it to a roof rack. However, it may compromise your available storage for other items during transport.
External Mounting Systems: Roof Racks And Crossbars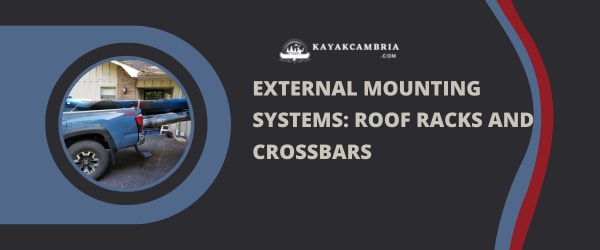 The most common method of transporting a kayak is by attaching it to the roof of your car using roof racks and crossbars. There are various systems available in the market, ranging from universal fit options to tailor-made solutions designed specifically for your vehicle and kayak. Roof-mounted systems have the advantage of allowing you to transport multiple kayaks, depending on the capacity of the roof racks and your vehicle. But, keep in mind that fuel efficiency can be slightly affected when carrying kayaks on your car's roof.
When looking for an external mounting system, be sure to consider the following factors:
Compatibility: Ensure that the roof rack system can fit securely on your car's make and model.
Load Capacity: Check if the roof rack and your vehicle can handle the weight of your kayak(s).
Ease of Use: Look for a system that is easy to install, load, and unload your kayak.
Aftermarket Options For Fitting A Kayak On A Car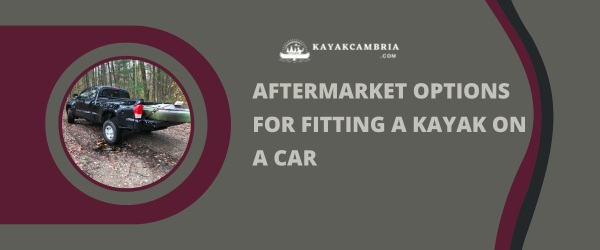 In cases where conventional roof racks and crossbars are not suitable for your vehicle or your kayak, there are aftermarket options that can help accommodate your needs. These options include foam blocks, J-cradles, and stacker bars. Foam blocks can be placed directly onto your car's roof and secured with straps, which provide cushioning for your kayak while holding it in place.
J-cradles and stacker bars are options for those with existing roof racks, allowing you to carry multiple kayaks vertically on their sides, making better use of available space.
Remember to thoroughly research and compare aftermarket solutions to guarantee you find the ideal system for your specific car and kayak requirements.
Pros And Cons Of Each Option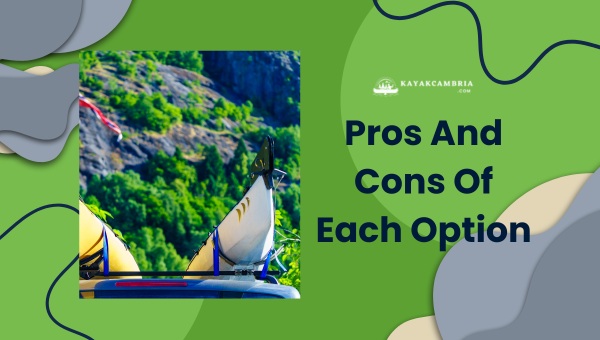 As a kayaker, exploring both inside and outside car options for transporting your kayak has its own set of pros and cons. It is important to weigh these factors according to your needs, vehicle type, and preference, to make the best decision for your transportation method. Here, I'll discuss some of the major advantages and drawbacks of each option.
1. Convenience Of Storing Kayak Inside The Car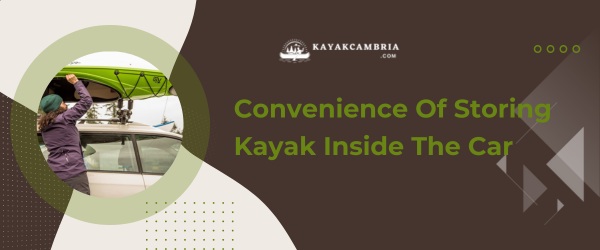 Pros:
Cons:
Limited by size: Kayaks that are too large to fit in your car's interior will require an alternative transportation method.
Space sacrifice: Even if your kayak fits in your car, it may take up valuable storage and passenger space needed for other items or people.
2. Additional Storage Needs With Roof-Mounted Systems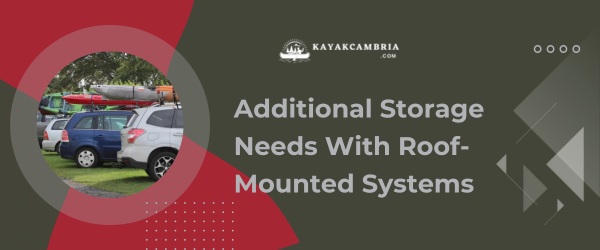 Pros:
Accommodates larger kayaks: Roof-mounted systems can handle a wider variety of kayak sizes, making them an ideal choice if your kayak isn't foldable or if it's too large to fit inside your car.
Less interior space sacrifice: Since the kayak is mounted on the roof, your vehicle's interior remains free for additional cargo or passengers.
Cons:
Increased wind resistance and noise: Your car will experience increased wind resistance and may produce more noise when driving with a roof-mounted kayak.
Safety concerns: Incorrectly installed roof-mounted systems can be a hazard and could result in damage to your vehicle or create road hazards.
Extra cost: Purchasing a roof rack or mounting system will likely cost more than simply keeping your kayak inside your car.
3. Safety And Visibility Considerations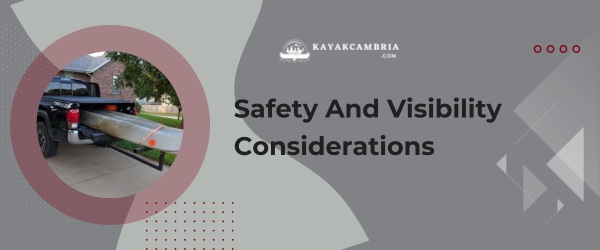 Pros:
Safety: By storing your kayak inside your car, you eliminate potential dangers associated with improperly mounted roof racks, such as road hazards or accidents.
Better visibility: Keeping your kayak inside your car instead of on the roof allows for better visibility while driving.
Cons:
Potential damage to car's interior: Loading and unloading your kayak from your vehicle could result in scratches, tears, or overall wear on the interior.
Limited sightlines: If your kayak is stored on the roof, it may impede your visibility in certain situations.
Transporting Kayaks: Tips For A Safe Trip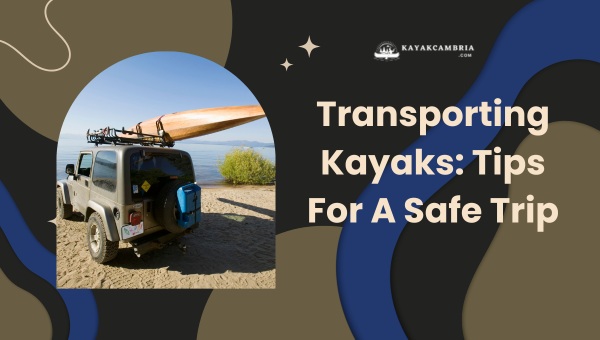 Whether you're a seasoned kayaker or new to the sport, it's essential to transport your kayak safely and securely to avoid accidents and damage to your kayak or car. In this section, I'll share some valuable tips for ensuring a safe and enjoyable journey to the water.
Securing Your Kayak To Avoid Damage And Accidents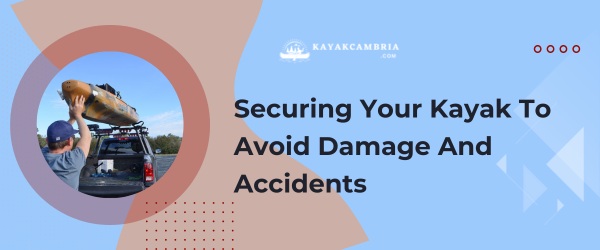 It's crucial to properly secure your kayak, regardless of the method you choose for transporting it. Here are some tips for safe loading and securing your kayak:
Use appropriate tie-down straps: Select straps specifically designed for kayak transportation, as they provide extra padding and grip to protect your kayak and your car from scratches and dents.
Use the bow and stern tie-downs: To further prevent any movement during transit, attach lines to the front and rear of your kayak and secure them to your car's towing point or bumper.
Check for secure fit and balance: Before hitting the road, make sure your kayak is snug and centered on your car's roof or inside, and verify that your tie-downs are secure and tight.
Preparing For A Road Trip With Accurate Navigation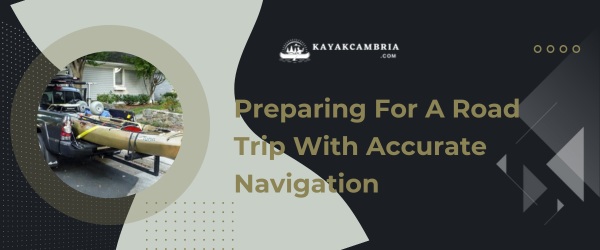 When embarking on a kayaking adventure, it's vital not to waste time and energy due to getting lost or taking longer routes. Be sure to plan your route ahead of time and research potential road closures, construction, or rough terrain. Utilize a reliable GPS device or smartphone app to guide you to your destination efficiently and safely.
Following 2023 Local Guidelines And Laws For Transporting Kayaks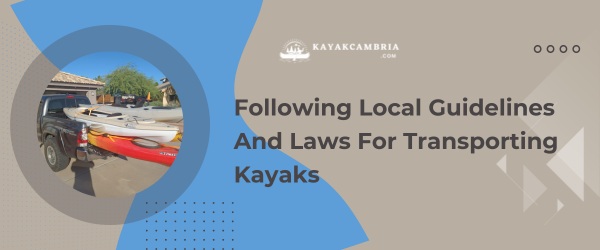 Each state and locality have their regulations for transporting large items on cars. Familiarize yourself with local laws and guidelines to ensure your kayak transportation complies with them. Additionally, some parks and kayaking destinations may have specific gear or permit requirements. Check all this information before setting out on your journey to avoid any unforeseen issues at your destination.
Kayaks Fit In Different Types Of Cars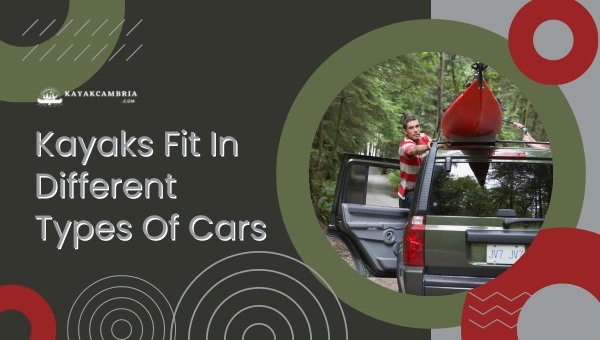 As a kayaking enthusiast, I know firsthand that the type of car you're trying to fit a kayak in can significantly influence your options. So, let's take a look at how various types of cars fare when it comes to transporting kayaks.
1. Sedans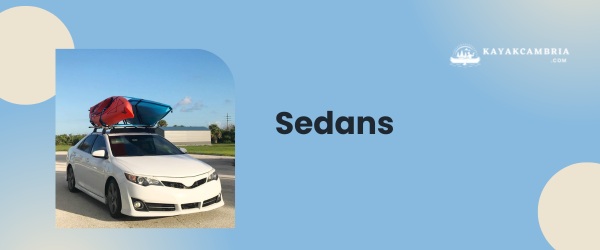 Sedans are often considered the least favorable option for kayak transportation, mostly because of their limited interior space. However, it's not impossible to fit a small-sized inflatable or foldable kayak in the trunk or backseat of a sedan. If that's not an option, attaching a roof rack or foam blocks to your sedan can be a viable solution for transporting larger kayaks.
2. Hatchbacks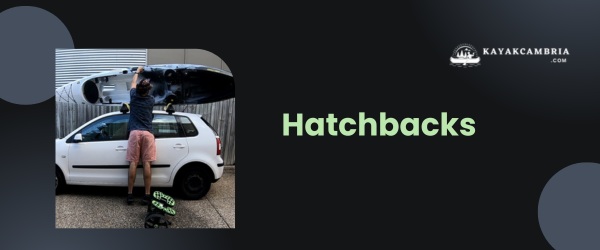 Hatchbacks offer a bit more versatility when it comes to fitting a kayak inside. Due to their back door design, you have the option to fold down the rear seats, providing a larger space to accommodate the kayak. That being said, hatchbacks are still not the roomiest option, and you may need to rely on a roof rack system for larger kayaks.
3. Wagons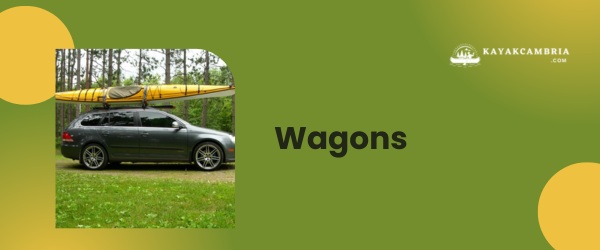 Wagons are the perfect middle ground between sedans and SUVs when it comes to fitting a kayak inside. They often come with folding rear seats, providing ample length and storage to accommodate your kayak, especially if it's a smaller one. Of course, for longer kayaks, you'll still need a roof rack, but wagons make it easier to transport and store kayaks.
4. SUVs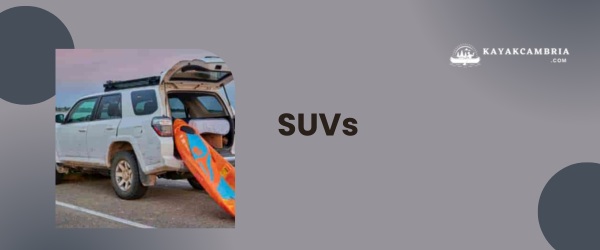 SUVs are the most versatile option for fitting a kayak inside, thanks to their ample cargo space and flexibility. Some SUVs even come with in-built roof rails, making it easier to attach a roof rack system for transporting larger kayaks. For those with longer kayaks, your best bet is to invest in a sturdy mounting system that can accommodate the weight and size of your watercraft.
5. Pick-up Trucks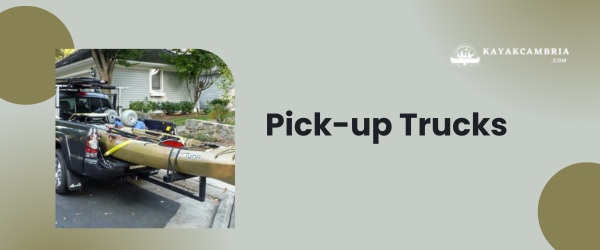 If you own a pick-up truck, fitting a kayak in the bed is a breeze, provided you properly secure it to prevent sliding or unnecessary movement. However, if your kayak is longer than the truck's bed, you may need a bed extender or a T-bar rack system to provide extra support for the overhanging kayak.
Regardless of the type of car you have, it's essential to consider the size and dimensions of both your kayak and vehicle when deciding on the best transportation method.
How To Pick The Right Kayak For Your SUV in 2023?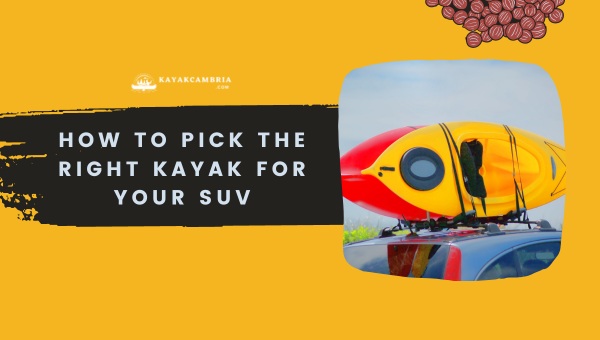 One of the most common concerns for kayaking enthusiasts is finding the right kayak that can comfortably and safely be transported using their SUV. To help you find the perfect match, follow these steps and consider the factors below in selecting the right kayak for your SUV.
Assessing Your SUV's Roof Space And Load Capacity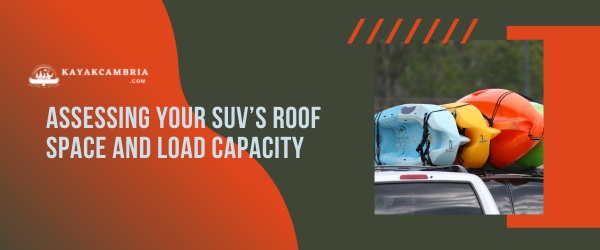 Before purchasing a kayak, make sure to measure your SUV's roof space to determine the maximum length and width of the kayak you can transport. Additionally, check your SUV's owner manual for information on maximum roof load capacity to ensure that the weight of your kayak and any additional gear won't exceed the limit.
Choose The Right Kayak Type
There are several types of kayaks to choose from, each with unique features suited for different water activities. When shopping for a kayak, consider the following popular types:
Recreational Kayaks: These are ideal for beginners and occasional kayakers, and designed for casual paddling on calm waters. Recreational kayaks are typically shorter and lighter, making them easy to transport on an SUV.
Touring Kayaks: Best suited for longer trips or multi-day adventures, these kayaks are longer and narrower, offering better tracking and speed. This type may be more challenging to transport on an SUV due to its length.
Whitewater Kayaks: Specifically designed for navigating through rapids and turbulent waters, whitewater kayaks are short and highly maneuverable. This type of kayak easily fits on most SUV roof racks.
Pick The Right Material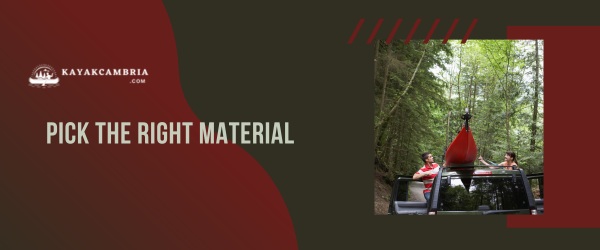 Kayaks come in different materials, each with unique properties that can affect weight, durability, and cost. Common kayak materials include:
Polyethylene: A popular choice due to its affordability, durability, and resistance to impacts. However, it is heavier and more susceptible to UV degradation.
Composite: Made of fiberglass, carbon, or Kevlar, these kayaks are lightweight, highly durable, and offer better performance. However, they are also more expensive.
Thermoformed ABS: This material provides an excellent balance between weight, durability, and cost. Thermoformed ABS kayaks are lighter than polyethylene and more resistant to UV degradation.
Consider Kayak Accessories And Additional Gear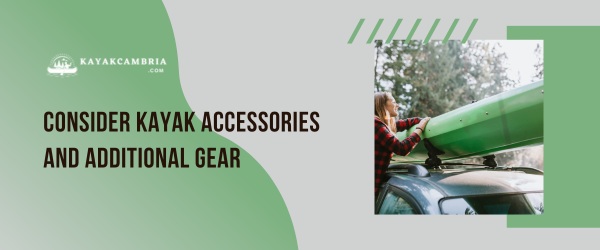 Lastly, ensure that your SUV can also accommodate the additional gear and accessories, such as paddles, life vests, or a kayak trolley. Keep in mind that some roof racks and mounting systems may require additional attachments for specific kayak types or extra storage.
By taking into account your SUV's roof space, load capacity, and preferred water activities, you can find the perfect kayak to suit your lifestyle and adventures.
Can You Fit A Kayak Inside A Sedan?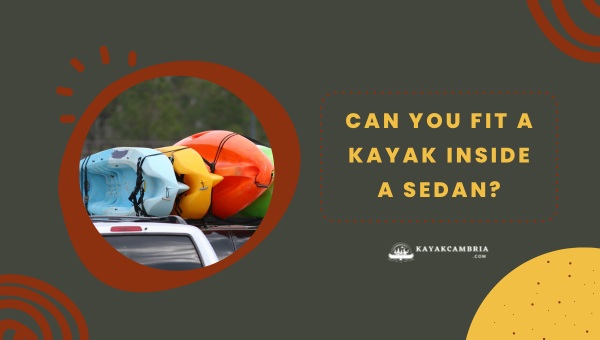 As a kayaker with a sedan, I've often faced this question myself. The short answer is that it can be possible, but with some caveats. The key here is to know the dimensions of both your car and your kayak to determine what can be accommodated.
Car Dimensions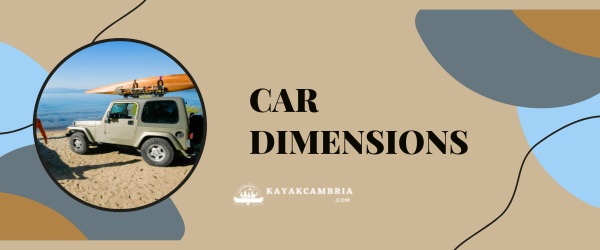 First, measure the interior of your sedan from the dashboard to the rear seat. The rear seats and front passenger seat should fold down, creating a more extended space for the kayak. Remember to take into account the width of the door openings and trunk space as well.
Kayak Dimensions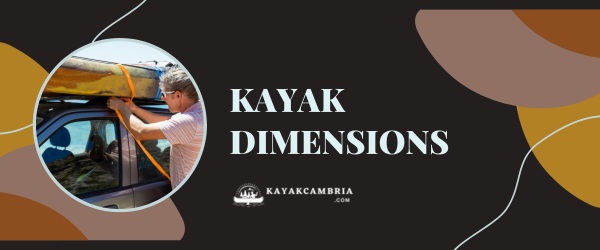 Next, get familiar with your kayak's length, width, and height. Keep in mind that recreational kayaks are typically shorter and wider, while touring and whitewater kayaks generally require more space due to their longer design.
Practical Considerations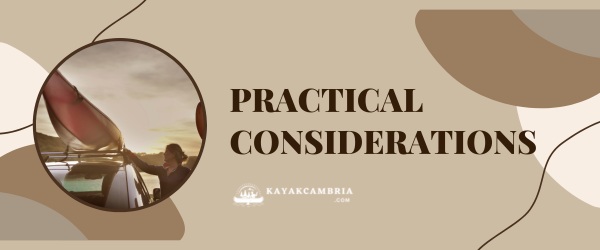 While some shorter recreational kayaks could feasibly fit inside a sedan, it's essential to think about the practicality of this option. Accessibility and safety are two factors to be considered:
If the kayak fits too snugly, you may run into difficulty accessing the trunk, or even struggle to secure the kayak in place within the vehicle.
Be mindful about visibility when the kayak is inside the car — if your rearview mirror is obstructed, this could lead to safety hazards on the road.
In most cases, it's more common for kayakers to transport their watercrafts externally using roof racks or other attachment systems. However, if you have a smaller kayak that can fit comfortably in your sedan, then by all means, go for it—just be sure to keep safety top of mind.
Frequently Asked Questions
1. Can a recreational kayak fit inside a sedan?
A recreational kayak, which usually ranges from 9 to 12 feet in length, might not fit inside a sedan due to its size. However, if you have a folding or inflatable kayak, it may fit in the trunk or back seat. For hard-shell kayaks, consider a roof rack, crossbar, or another external mounting system.
2. J-cradles vs. saddles: What is the difference?
J-cradles and saddles are both types of external kayak mounts. J-cradles hold the kayak on its side, in a 'J' shape, while saddles secure the kayak in a horizontal position. Both options can work well for transporting a kayak, but some find J-cradles help save space on the roof and make it easier to load and unload the kayak. Saddles may provide more support, which is useful for longer trips and larger kayaks.
3. Can you fit two kayaks on a car roof?
It is definitely possible to fit two kayaks on a car roof, depending on your car's size and the roof rack system you are using. There are double J-cradle systems, stacker systems, and other options designed specifically for carrying multiple kayaks. Make sure to verify the weight capacity of your roof rack system and check your car's roof weight limit.
4. What's the easiest way to load a kayak onto a car roof?
To make the process of loading a kayak onto your car roof easier, follow these steps:
1. Place a towel or protective padding on the edge of your car to avoid scratches.
2. Stand on the side of the car and lift one end of the kayak onto the padding.
3. Go to the other end of the kayak, lift it, and slide the entire kayak onto the car roof.
4. Opt for specialized kayak loaders or rollers, a T-bar, or lift-assist systems to help you with the process.
5. Do I need a special license to transport a kayak on my car?
In most cases, you don't need a special license to transport a kayak on your car. However, you must follow local laws and guidelines for safe transportation. Be sure to secure the kayak properly and, if required, attach a red flag to the end of the kayak if it extends beyond the car.
6. Does transporting a kayak on a car roof affect fuel consumption?
Transporting a kayak on your car roof may affect fuel consumption. The aerodynamic drag resulting from the kayak and roof-mounted system can increase wind resistance and decrease your car's fuel efficiency. To minimize this effect, make sure your kayak is properly secured and in line with your car's roof. Additionally, consider removable or folding roof rack systems that can be taken off when not in use to reduce drag.
Conclusion
When it comes to fitting a kayak in your car, it ultimately boils down to personal preferences based on the dimensions of both your car and kayak. While some cars may have the capacity to store kayaks within their interiors, others will require external solutions. It's crucial to consider the size, style, and purpose of the kayak you own or plan to purchase, as they will largely dictate your car transportation options.
Start by measuring your car's interior dimensions and compare them to the kayak size to determine whether it can fit within your vehicle. Also, be sure to compare and contrast the various kayak types including recreational, touring, and whitewater kayaks as each will differ in size.
Consider the available options for external kayak transportation, such as roof racks, crossbars, or aftermarket solutions. It's important to weigh the advantages and disadvantages of these systems based on factors like convenience, storage needs, and safety.
Prioritize the safety of your kayak while in transit. Ensuring that it is properly secured and following the necessary precautions when transporting it will prevent potential damage to your kayak or car, and minimize the risk of accidents on the road.
Lastly, keep in mind that local guidelines and laws regarding kayak transportation may vary according to your location. Make sure to follow any specified regulations and consult with local experts if you are unsure about legal requirements.
Whether a kayak can fit in your car will depend on a variety of factors, including your car and kayak size, personal preferences, and budget. By carefully evaluating these factors, you can ensure that your kayak transportation solution is both safe and convenient, allowing you to focus on what you truly love – kayaking.