As a kayaking enthusiast, I understand that the joy of paddling through serene lakes and roaring rapids is a thrill like no other. But before embarking on these incredible adventures, there lies the all-important task of transporting your trusty kayak from one location to another. For many, this can be challenging, especially when you're flying solo. Fear not, my fellow kayakers, for I'm here to share valuable tips and techniques on how to carry a kayak by yourself with ease.
Why is it crucial to learn how to carry a kayak independently, you ask? For starters, you never know when you'll need to rely solely on yourself while out in the great outdoors. Perhaps your paddling partner had to call it a day, or you simply want the freedom to hit the water anytime you wish.
Additionally, understanding the nuances of kayak transportation can prevent unnecessary injuries caused by improper lifting or carrying techniques. Therefore, it is in every kayaker's best interest to become adept at managing their kayak singlehandedly.
With helpful guidance and a little practice, you can master the art of solo kayak transport. In this article, we'll discuss various aspects of carrying a kayak on your own, starting with the right equipment, proper methods to lift and walk with the kayak, and even how to handle different terrain obstacles. So, brace yourself for an informative journey designed to make your kayaking forays more enjoyable and hassle-free.
Brief Overview Of Kayaking
Kayaking is an incredibly popular water sport that has captured the hearts of many outdoor enthusiasts. It involves paddling through waterways on a small, slim boat called a kayak, which typically seats one or two people. The paddler uses a double-bladed paddle to maneuver the kayak, alternating strokes on either side of the boat to move forward and steer.
Kayaking is enjoyed in numerous environments, from serene lakes and calm rivers to thrilling whitewater rapids and open ocean expanses. This versatile sport can provide both a leisurely outing or a challenging physical workout, depending on the paddler's preferences and the specific location. In recent years, kayaking has also become increasingly popular as a means for exploring previously inaccessible areas, fostering an appreciation for nature and wildlife.
As someone who enjoys kayaking, it's essential to not only know how to paddle and maneuver the kayak but also how to transport it safely and efficiently. In this article, we will discuss various techniques and strategies for carrying a kayak by yourself – a valuable skill that every kayaker should master.
Importance Of Learning How To Carry A Kayak By Yourself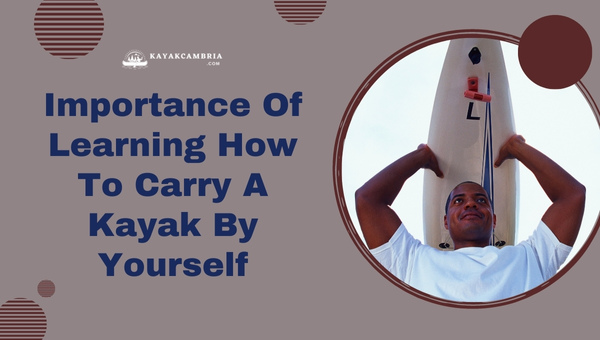 When I first started kayaking, I quickly discovered that transporting the kayak is an essential skill. Learning how to carry a kayak by yourself not only adds to your independence but also makes your kayaking experience more enjoyable. Here are a few reasons why it's essential to hone this skill.
Safety And Self-reliance
As a paddler, you'll likely find yourself in situations where you need to move your kayak alone. Whether it's due to a scattered arrival of friends or even a solo outing, carrying a kayak by yourself ensures that you can safely load and unload your kayak without having to rely on anyone else.
Protect Your Investment
Kayaks can be quite expensive, and we all want to protect our investments. When transporting your kayak, improper handling can result in damage and costly repairs. Knowing the right way to carry a kayak by yourself will help you minimize the risk of any damage.
Prevent Injuries
Carrying a kayak incorrectly can lead to strain and injuries. Proper lifting and carrying techniques can significantly reduce the risk to your lower back, shoulders, and knees. Incorporating good body mechanics will go a long way in keeping you pain-free and on the water.
Convenience
Mastering the art of carrying your kayak by yourself offers great convenience. You can simply grab your kayak and hit the water when the moment strikes, without needing an extra pair of hands.
Enhances Your Overall Kayaking Experience
As a kayaker, you should be in control of every aspect of your paddling experience. By learning to transport your own kayak, you gain a greater sense of autonomy and can make the most of your time on the water. The more self-sufficient you are, the more enjoyable and rewarding your kayaking adventures become.
Choosing The Right Equipment For Solo Kayak Transport in 2023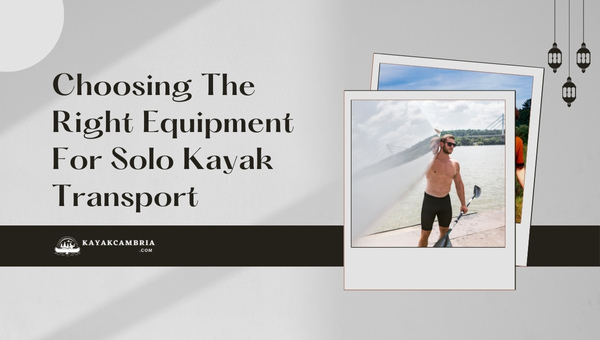 Transporting a kayak by yourself can be quite tasking, especially when you have the wrong equipment at hand. To ease this burden, it is essential to invest in the appropriate gear that will not only make the task more manageable but also ensure the safety of both you and your kayak. Here's a comprehensive guide to choosing the right equipment for solo kayak transport:
1. Kayak Cart/Trolley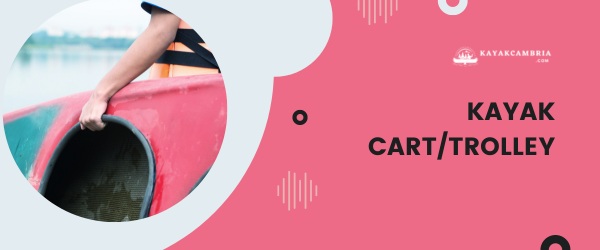 A kayak cart or trolley is an essential piece of equipment when it comes to solo kayak transportation. These carts come in various designs and capacities to cater to the different types/styles of kayaks. They feature two wheels, an axle, and adjustable straps or bunks to hold the kayak securely. By investing in a suitable cart, you can reduce the effort required to move your kayak from point A to B significantly.
2. Shoulder Strap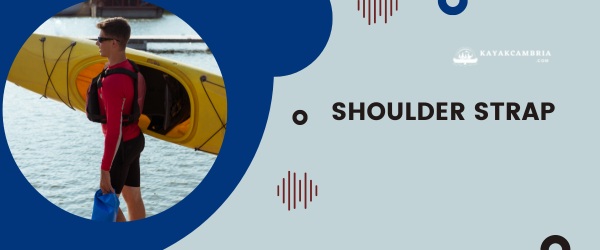 A shoulder strap is another significant piece of gear that can make transporting your kayak much more comfortable. Attaching a strap to your kayak and positioning it across your shoulder offers better weight distribution, reducing the strain on your arms and back.
When selecting a shoulder strap, prioritize comfort, adjustability, and durability. Opt for straps with padded cushioning to minimize fatigue and to ensure that it's comfortable to wear over an extended period.
3. Hooks For Weight Distribution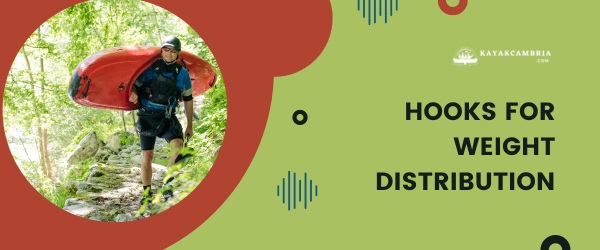 While transporting a kayak, even weight distribution is crucial to avoid muscle strains and injuries. Utilizing simple hooks attached to the kayak can help spread the load, making it more manageable for you to carry it solo. These hooks are designed to be installed on your kayak grab handles and can be used in conjunction with the shoulder strap for optimal weight balancing.
Preparing Your Kayak For Transport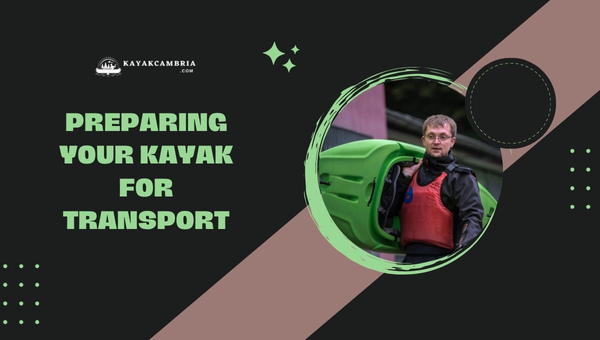 Before you begin the process of carrying your kayak by yourself, it's essential to properly prepare it for transport. Ensuring your kayak is ready for the journey ahead will make the process smoother and safer. In this section, I'll share the crucial steps for preparing your kayak for transportation.
1. Empty Your Kayak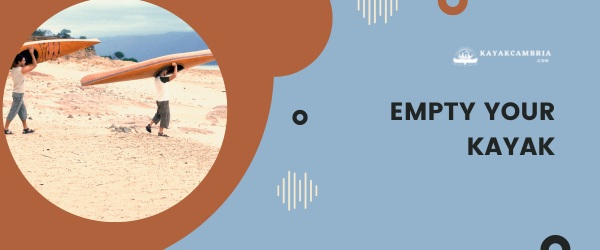 First and foremost, remove all gear and accessories from your kayak. This includes paddles, life jackets, fishing equipment, and any personal belongings. By doing so, you'll significantly reduce the weight of your kayak, making it much easier to carry.
2. Attach The Appropriate Equipment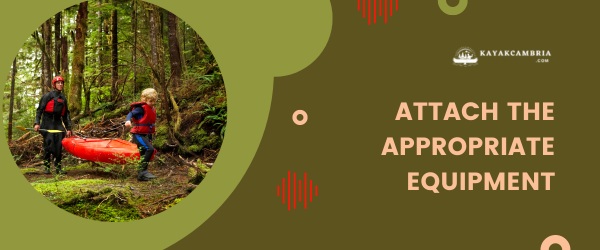 Next, decide whether you'll be using a kayak cart or shoulder strap for transport. If you opt for a cart, position it under the kayak so that it's balanced evenly on both ends. Secure the kayak onto the cart using any necessary straps. For those who prefer a shoulder strap, attach it to the kayak according to the manufacturer's recommendations. This typically involves wrapping and securing the strap around the kayak's center so it sits comfortably on your shoulder.
3. Prepare For Lifting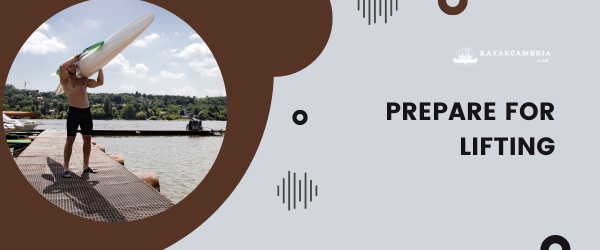 To prepare for lifting and carrying the kayak, ensure that you have a clear path to walk without any obstructions. Plan your route in advance to include any turns, inclines, or changes in terrain.
4. Inspect Your Kayak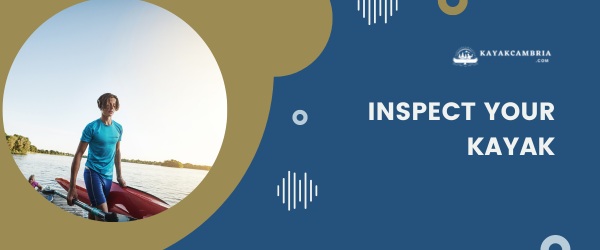 Finally, perform a quick inspection of your kayak to confirm it's in good condition before you start transporting it. Look for any signs of wear or damage that could cause trouble during your journey.
By following these preparation steps, you'll set yourself up for a safe and successful solo kayak transport.
Carrying Your Kayak Using Proper Body Mechanics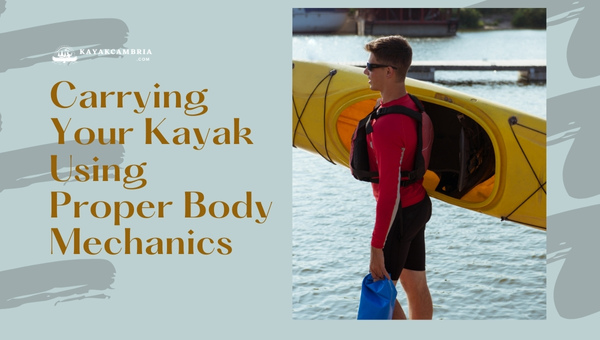 When it comes to carrying a kayak by yourself, using proper body mechanics is essential in preventing strains, injuries, and general discomfort. To make this process as safe and efficient as possible, follow the tips outlined below.
Lifting Your Kayak Onto Your Shoulder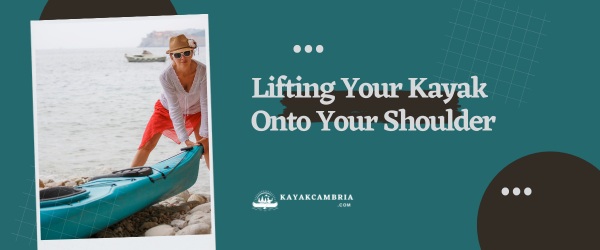 Position yourself near the center of the kayak, facing the same direction as the cockpit.
Bend at the knees and keep your back straight – this will help avoid any muscle strains or back injuries.
Using both hands, grasp the cockpit rim or handles, lift one side of the kayak, and tuck it into your hip.
Hold the kayak and slide it onto your shoulder. Make sure to have a firm grip to prevent it from slipping, and evenly distribute its weight.
You can also use a shoulder strap or a shoulder pad for extra cushioning and better weight distribution.
Engaging Your Core Muscles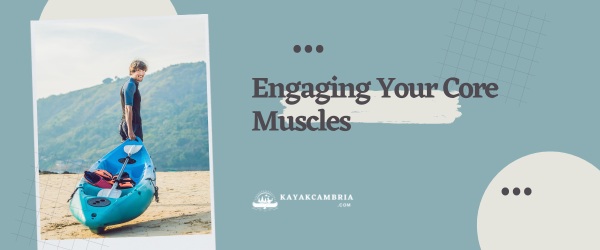 Engaging your core muscles while carrying your kayak is crucial to prevent back injuries and maintain proper balance. When walking with the kayak on your shoulder, stand up tall and keep your abdominal muscles engaged. Additionally, keep your shoulders relaxed and avoid hunching over to maintain proper posture.
Balancing The Kayak When Walking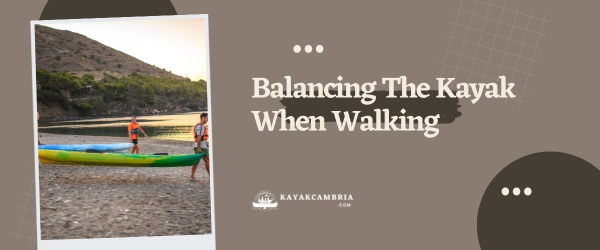 Before starting your walk, take a moment to find your balance and ensure the weight of the kayak is distributed evenly across your shoulder. Hold onto the kayak's side or the carrying handle for extra stability, and remember to re-adjust your grip or weight distribution if you feel any discomfort or instability.
Maintaining Safe Body Mechanics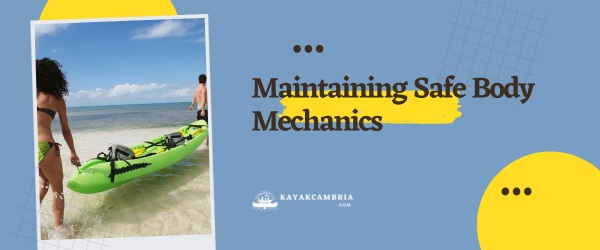 As you walk, stay aware of your surroundings and remember to maintain proper posture with every step. Make sure to take breaks if needed, and be cautious when navigating uneven terrain. With practice and due diligence, you'll become a pro at carrying your kayak solo using the safest and most efficient body mechanics.
Implementing Helpful Techniques For Different Terrain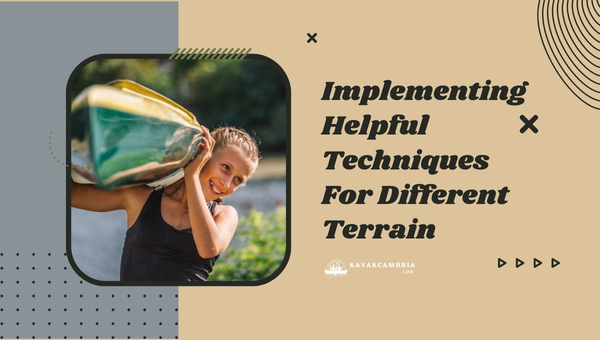 Carrying a kayak by yourself can be challenging, especially when you have to navigate different types of terrain. Here are some helpful techniques to ensure you transport your kayak safely and efficiently, no matter the ground beneath your feet.
Uneven Ground And Obstacles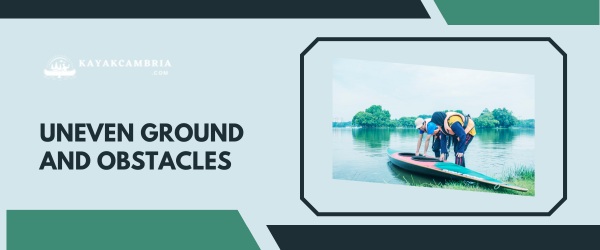 When slogging through uneven ground, it's crucial to slow down and pay attention to your surroundings. Be prepared to adjust your route if necessary, and don't be shy about asking for help when encountering large obstacles like fallen trees or boulders. Remember, stability and safety are more important than speed during this process.
Tight Spaces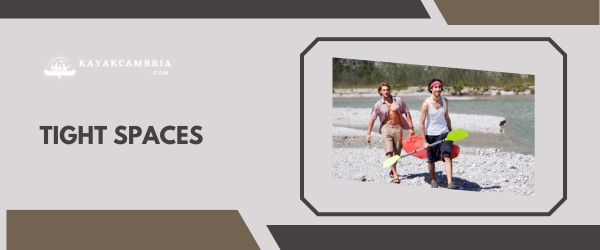 In tight spaces, you may need to modify your carrying technique. One option is to use a side-to-side movement with the kayak balanced on your shoulder or held at the side of your body. This enables you to navigate narrow paths, dense foliage, or tightly-packed storage spaces more easily. Be sure to maintain a secure grip on your kayak and keep an eye out for potential hazards.
Inclines And Elevated Terrain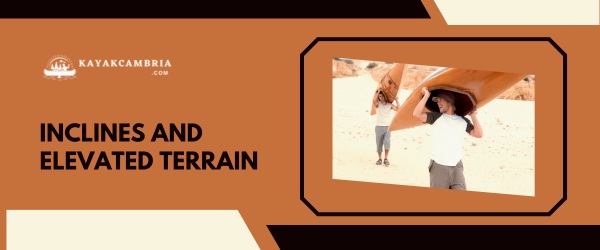 When facing steep inclines, or when moving through elevated terrain, it's essential to keep your pace steady and maintain control of your kayak. In these situations, you may need to adjust your carrying technique or even briefly set the kayak down to ensure proper footing. Plan your route in advance to identify any challenging areas ahead of time, allowing you to approach them with caution and preparedness.
| | | |
| --- | --- | --- |
| Terrain | Challenges | Techniques |
| Uneven ground | Obstacles, unstable surfaces | Slow down, adapt your route |
| Tight spaces | Narrow paths, dense foliage | Side-to-side movement |
| Inclines | Steep hills or slopes | Steady pace, proper footing |
Implementing these helpful techniques for different types of terrain will result in a safer and more efficient process of carrying a kayak on your own. By slowing down in uneven areas, adapting your carrying technique for tight spaces, and maintaining a steady pace on inclines, you'll make transporting your kayak a breeze—no matter the landscape you encounter on your adventures.
Planning Your Route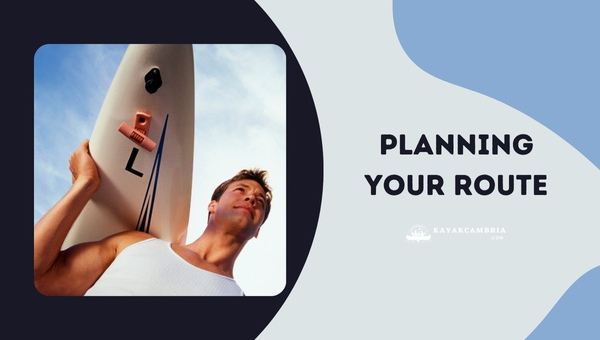 Before taking the task of carrying your kayak by yourself, it is essential to plan your route accordingly. To ensure a smooth transport experience, follow these useful tips:
Survey The Area
Take some time to familiarize yourself with the area you'll be covering. Check for any obstacles, steep inclines, and uneven ground you may need to navigate. Knowing the layout of your route in advance will be an advantage when carrying a bulky object like your kayak.
Distance And Terrain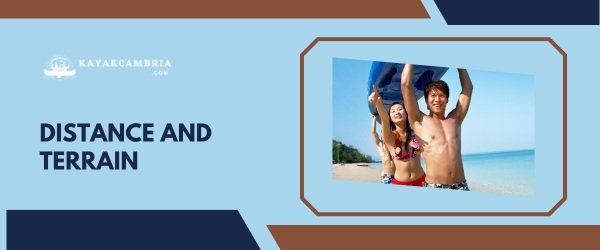 When planning your route, consider the distance you'll need to cover and the type of terrain you'll encounter. Keep in mind that carrying your kayak on rough terrain will be more taxing than a simple flat path. Distance is crucial too; a lengthy route will require more stamina and might necessitate taking breaks.
Plan For Breaks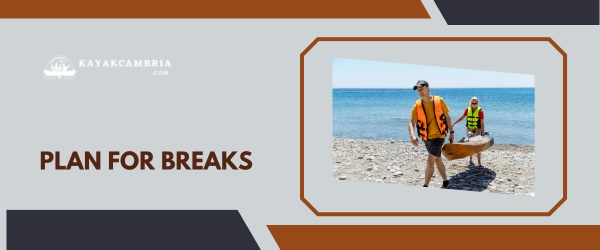 Speaking of breaks, if you're transporting your kayak over a long distance, ensure you have designated rest points. Give yourself some time to regain your energy and adjust your grip if necessary. Overexertion may lead to injuries and accidents that could damage your kayak or, worse, hurt you.
Evaluate Your Carrying Abilities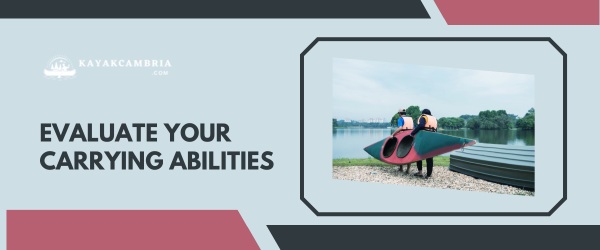 Be honest with yourself regarding your physical limitations. If you're not confident in carrying the kayak by yourself over a certain distance or through a challenging path, either devise an alternative route or seek additional help. The safety of both you and your equipment should always be a top priority.
By keeping these factors in mind, you can create a strategic and efficient plan for carrying your kayak by yourself, ultimately making your transport experience more manageable and enjoyable.
Transporting Your Kayak From Water To Vehicle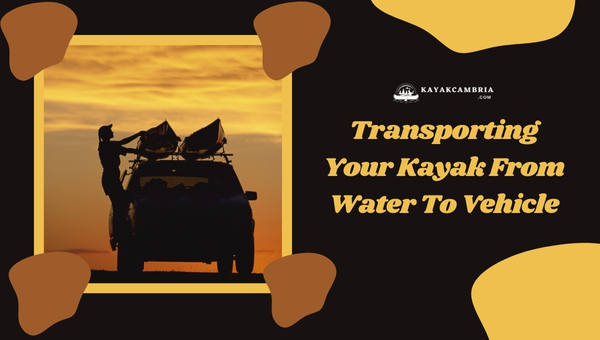 Transporting your kayak from the water to your vehicle might seem like a daunting task, especially when you're on your own. However, with the right equipment and some practice, you'll be able to do it efficiently and safely. In this section, I'll provide you with a step-by-step guide to help you transport your kayak from the shoreline to your vehicle with ease.
Step 1: Prepare your vehicle for loading
Before you begin the process of moving your kayak from the water, ensure that your vehicle is set up and ready for loading. This includes installing a robust kayak rack or a load assist system designed for single-person use. Some popular options include J-style cradles, saddles, or stackers that can be easily mounted on your vehicle's roof.
Step 2: Position your kayak
Carefully move your kayak to a stable location near the water, such as a flat surface or dry area free from obstacles. Ideally, the bow of the kayak should be facing your vehicle, which will make it easier to load.
Step 3: Lift the kayak onto your vehicle
Now that your kayak is properly positioned, it's time to lift it onto your vehicle. To do this, position yourself at the center of the kayak and bend your knees while maintaining a straight back. Carefully lift the kayak using your legs and core muscles. If your vehicle is equipped with a load assist system, use it to help ease the process of lifting the kayak and securing it onto the rack or cradle.
Step 4: Secure your kayak
Once your kayak is properly placed on your vehicle's roof, it's essential to secure it to prevent any accidents during transportation. Use high-quality cam straps or ratchet straps to fasten your kayak to the rack and the vehicle. Make sure the straps are tight and that your kayak is stable before driving away.
Step 5: Double-check your equipment
Before hitting the road, take a moment to double-check that your kayak is properly secured and all your equipment is stored safely within your vehicle. This ensures that you won't encounter any unexpected accidents or gear losses during your trip.
By following this step-by-step guide, you'll be able to transport your kayak from the water to your vehicle all by yourself. With practice and patience, you'll master this process, making your solo kayaking adventures more enjoyable and efficient.
What To Do In Case Of A Dropped Kayak?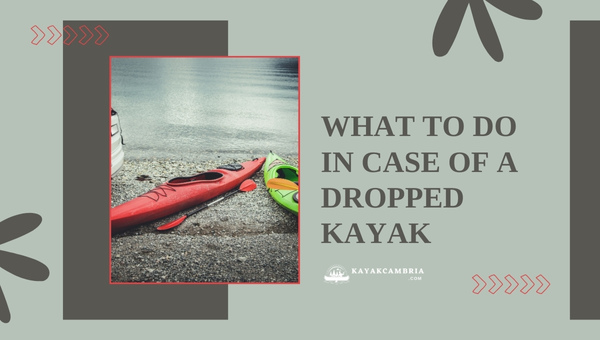 Accidents happen, and sometimes you might find yourself in a situation where you've dropped your kayak while carrying it. Don't worry; it's a common problem faced by many kayakers. Here's what you can do in case your kayak takes a tumble:
Stay calm and ensure your own safety: First things first, make sure you are not injured or in any danger. Keep your composure, and calmly assess the situation from a safe distance.
Inspect the immediate area: Before retrieving your kayak, take a quick glance at your surroundings. Ensure there are no hazards like sharp rocks or debris that could pose a risk to you or further damage your kayak.
Retrieve the kayak: Approach the kayak carefully and use proper lifting techniques to pick it up. Avoid dragging it across the ground, as this can lead to scratches or more severe damage.
Assess the damage: Once you've safely retrieved your kayak, take a close look at it. Check for any visible damage such as dents, cracks, or punctures. Also inspect the interior of the kayak for any waterlogged compartments or damaged gear.
Perform on-the-spot repairs if needed: If you notice minor damages like scratches or dents, you may be able to repair them with some basic tools and materials. Keep a simple repair kit with you during your kayaking adventures to help address any minor issues that might arise.
Determine if it's safe to continue: After addressing any visible damages, decide whether your kayak is still seaworthy. If you're unsure, it's always better to err on the side of caution and postpone your kayaking trip until you can have a professional assess the kayak's condition.
Learn from the experience: Dropping your kayak can be a valuable learning opportunity. Reflect on what caused the incident and how you can prevent it from happening again in the future. This might involve adjusting your carrying technique or investing in better carrying equipment.
Remember, when handling your kayak, always practice proper lifting and carrying techniques to minimize the risk of dropping it. However, should a mishap occur, follow these steps to evaluate and manage the situation effectively to continue your kayaking adventures as safely as possible.
How To Carry Different Types Of Kayaks in 2023?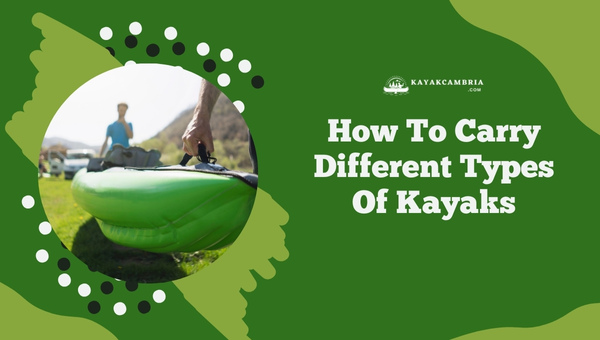 No two kayaks are exactly alike, and their size, shape, and weight can vary significantly based on their intended use. To ensure that you're transporting your kayak safely, it's important to consider the specific design features of each type of kayak. In this section, we'll explore best practices for carrying various kinds of kayaks.
Recreational Kayaks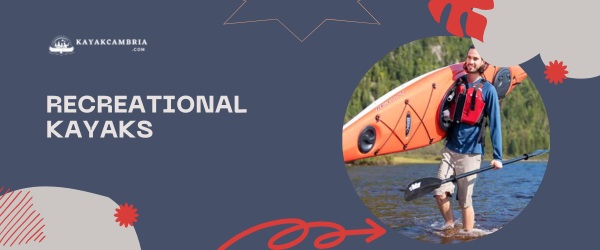 Recreational kayaks are generally the most common type you'll encounter. They are typically shorter, have larger cockpits, and suited for calm waters. To carry a recreational kayak:
Ensure the kayak is empty and follow the steps mentioned above for your preferred carrying method.
Take care not to knock the rudder or any other sensitive components when lifting.
Due to the larger cockpit opening, consider using a cockpit cover to prevent debris or water from entering while carrying.
Touring And Sea Kayaks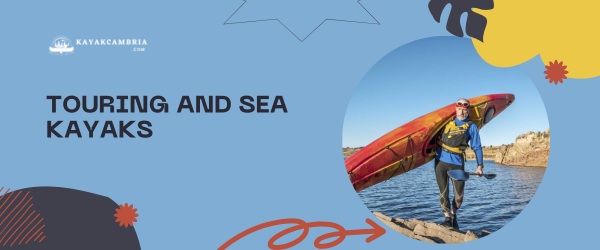 Longer and sleeker than recreational models, touring and sea kayaks are designed for longer journeys in varying water conditions. Their extra length can pose a challenge when carrying, particularly by oneself. Here are some tips for managing these larger boats:
Plan your route: more than ever, scoping out the best route to transport the kayak can save you from unnecessary difficulty.
Use a kayak cart for a more effortless experience.
If using a shoulder strap, lift the kayak from the mid-point to properly balance the craft.
Sit-on-Top Kayaks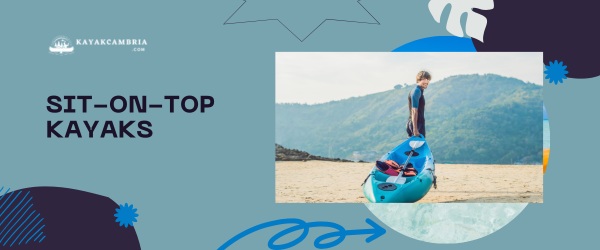 Due to their wider and more stable design, sit-on-top kayaks can be particularly cumbersome to carry. When handling these kayaks without assistance:
Attach a suitable shoulder strap or use a kayak cart for manageable transportation.
Keep a tight grip on your kayak's handles to prevent slipping.
Ensure no added gear is left on the kayak to avoid any unwanted surprises.
Whitewater Kayaks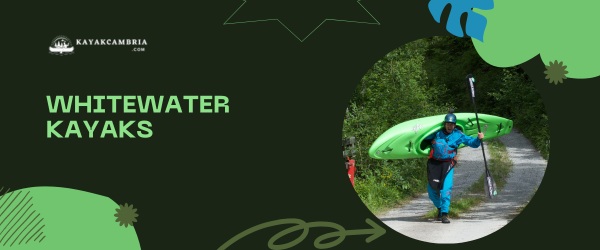 Whitewater kayaks are compact and agile, designed to navigate challenging rapids. Carrying a smaller whitewater kayak usually involves the following steps:
Use the well-defined carry handle, typically located at the front or rear of the boat.
With a strong grip on the handle, position the kayak on your shoulder, maintaining control and stability.
Inflatable Kayaks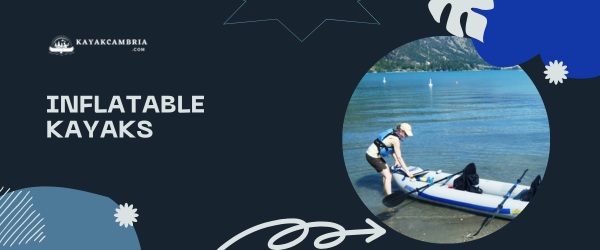 Inflatable kayaks are significantly lighter than other types, making them easier to carry:
Deflate your kayak partially to make it more manageable.
Fold or roll the kayak into a compact shape.
Use a kayak carry bag, with handles or shoulder strap, for easy transportation.
While each type of kayak presents its own unique challenges for solo transport, these guidelines should help you confidently and safely carry your craft to its destination.
General Tips For Kayak Transport in 2023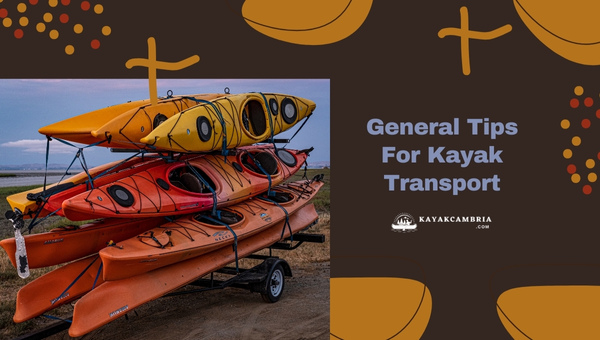 As an avid kayaker, properly transporting your kayak by yourself is crucial for the longevity of your equipment and your personal safety. Here are some general tips to help make the process smoother and more efficient.
Invest in useful equipment: Items such as kayak carts, shoulder straps, and hooks can greatly facilitate the transport process. Be sure to choose the right gear for your specific type of kayak and personal preferences.
Be prepared: Make sure you have everything you need for the transport process before you begin. This can include additional straps or carabiners to secure your kayak, as well as planning out your route in advance.
Dress appropriately: While this might seem trivial, wearing the proper clothing and footwear can make a significant difference in your ability to maneuver your kayak. Opt for non-slip shoes, gloves, and comfortable, moisture-wicking clothes.
Stay alert and adaptable: Different terrains and environments may require different techniques for carrying your kayak. Always be prepared to adjust your approach as needed to ensure safe and efficient transport.
Be patient: Carrying your kayak by yourself may be challenging at times. Remember to take breaks when necessary to avoid fatigue and maintain your control over the kayak. As you gain experience, the process will become easier.
Practice makes perfect: The more you practice carrying your kayak on your own, the more confident and skilled you'll become. Dedicate some time to practicing different carrying techniques and utilizing your transport equipment.
Safety first: Always prioritize your safety and the safety of your kayak during the transport process. By following these tips and using proper equipment, you'll be well on your way to mastering kayak transport by yourself.
Frequently Asked Questions
1. What type of kayak is easiest to handle and carry by yourself?
A lightweight kayak, such as an inflatable or a plastic sit-on-top model, is generally easier to handle and carry by yourself due to its reduced weight and manageable size.
2. Can I use a standard backpack or duffel bag strap to carry my kayak?
Although it may be possible, it's not advisable. Kayak-specific shoulder straps are designed to distribute weight more evenly and provide better support, reducing the risk of injury and making the process more comfortable.
3. How much weight can a typical kayak cart hold?
Most kayak carts can hold weight up to 100 to 200 pounds, depending on the model. Check the manufacturer's recommendation and ensure it's suitable for your kayak's weight.
4. How can I practice carrying my kayak safely without going to the water?
You can easily practice carrying your kayak at home. Choose a flat, level surface, and follow the carrying techniques outlined in the blog post to familiarize yourself with the process before heading to the water.
5. How do I determine if my car's roof is suitable for a rooftop kayak carrier?
Check your vehicle's owner manual or consult a professional to ensure that your car's roof is capable of safely supporting the weight of a kayak and the appropriate rack system. Factors to consider include your car's roof load capacity, the presence of roof rails, and compatibility with various carrier designs.
6. What should I do if I'm having difficulty carrying my kayak, even after following these instructions?
If you're still having trouble carrying your kayak, consider evaluating your physical fitness and strength levels. Practicing proper lifting techniques and strengthening your core muscles can make carrying your kayak much more manageable. Additionally, ask experienced kayaking friends or local professionals for guidance and personalized assistance.
Conclusion
Learning how to carry a kayak by yourself is an essential skill for any kayaking enthusiast. By acquiring the right equipment, utilizing proper body mechanics, planning your route, and practicing carrying techniques for different terrain, you will ensure a safe and efficient transport of your kayak on all your solo adventures. Additionally, knowing how to handle different types of kayaks and having the right gear at hand will not only save you time but also minimize the risk of injury.
Remember, practice makes perfect. As you become more experienced, carrying your kayak will become second nature. Each trip will serve as an excellent opportunity to hone your skills, making you more comfortable and confident on your journeys. So, don't be afraid to venture off on your own and enjoy the sense of accomplishment that comes from mastering the art of solo kayak transportation. Happy paddling!